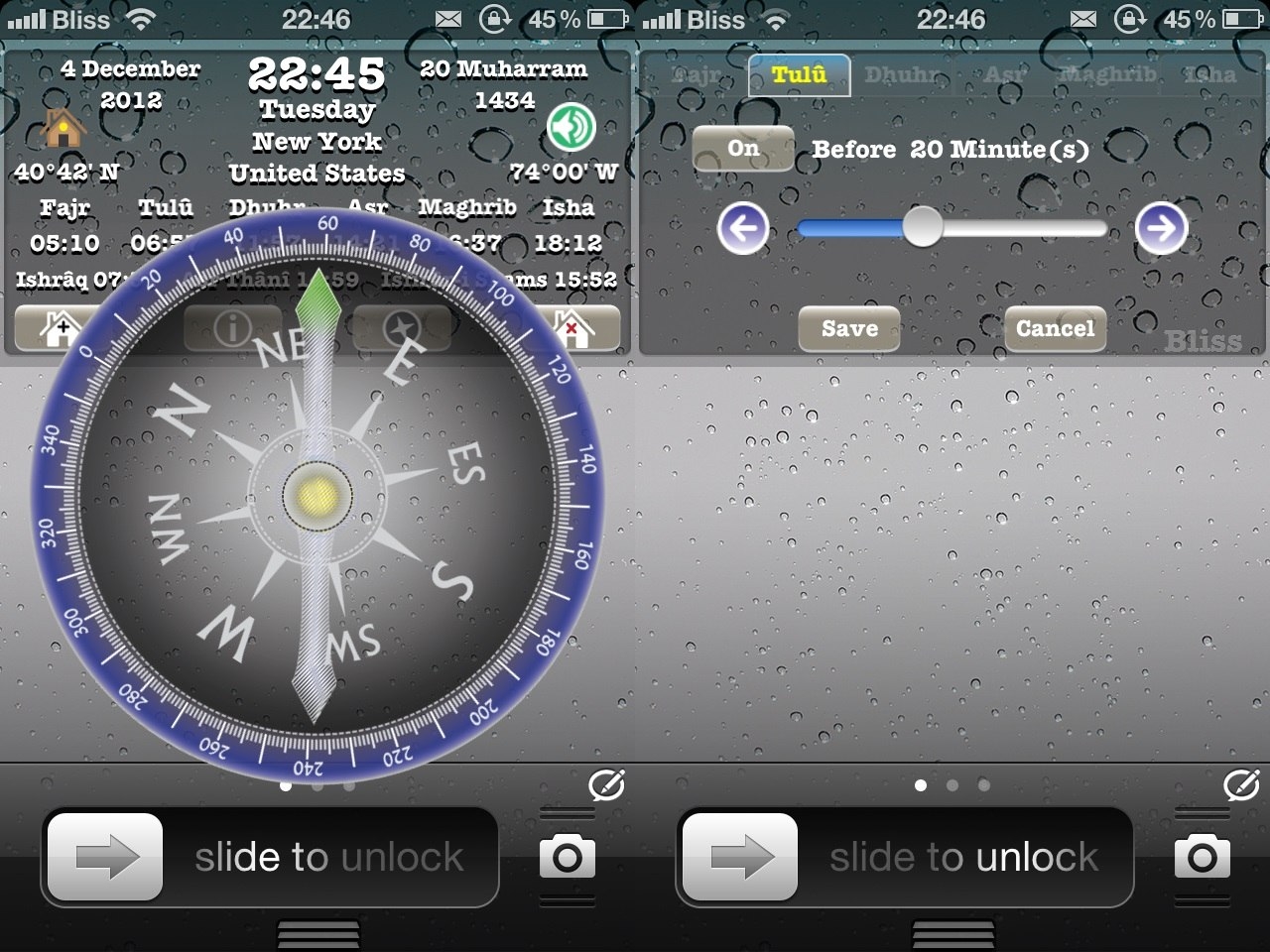 Bliss for Notification Center este un nou widget pentru Notifications Center-ul din iOS, iar in fata avem un add-on extrem de complex si util pentru posesorii de iDevice-uri. Widget-ul are o multitudine de ecrane si la fel de multe functii, iar mai jos vi le-am listat pe toate. De la o busola pana la afisarea coordonatelor voastre in Notifications Center, pana la afisarea orei in mai multe locatii de pe glob sau afisarea unor informatii despre iDevice-ul vostru, widget-ul are extrem de multe optiuni pentru voi.
  Bliss for Notification Center este disponibil pentru 5$ in repo-ul BigBoss al Cydia.
Notification Center add-on
Sliding screens
1. Main Screen

Prayer/Place Info Screens
Buttons
add Place
switch between Prayer/Place Info Screens
compass
delete current Place

2. Setting Screen

Buttons
hijri Calender
alarm
settings
about widget

Features

Calender

clock
gregorian and Hijri dates
days of the week

Prayer times

prayer times (five)
also ishrâq, asr Thânî, isfirâr-i Shams
automatic day light saving time
calculation according to nearest place for 60+ latitude

Place information

GMT
latitude and longitude
day light saving time indicator
Sun rise/set
Moon rise/set
magnetic variation angle
qibla angle
Moon altitude when the Sun sets

Compass

directions
qibla
magnetic variation included

Search for places

according to names
from the list (from country to places)
prayer times (without adding places)

Others

showing ten different places
yearly hijri calander
starting days of the months
Eid days
days and nights

Alarm

adding alarm for every prayer time (+/- 90 minutes)

Language

English
Turkish
about 100 countries, 20000 places
Asia
Europe
North America
Russia

Compatibility

devices: iPhone 3GS, iPhone 4/4S, iPad 2/3
software: IOS 5.0 and above, IntelliScreenX, SBRotater

Notification Center addons can be enabled from the Settings app, in the Notifications panel.