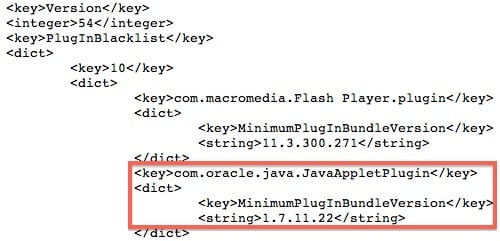 Luna aceasta compania Apple a blocat posibilitatea de a mai utiliza Java 7 pe Mac-uri, totul intr-o tentativa de a proteja posesorii de Mac-uri impotriva unor vulnerabilitati ale software-ului dezvoltat de catre Oracle. Atunci Apple a modificat fisierele iOS-ului, specificand ca OS X-ul sa ruleze Java 7 doar daca are o anumita versiune, ea fiind in acel moment nelansata de catre Oracle. La doar cateva zile dupa aceasta masura, Oracle a actualizat Java 7, Mac-urile au reinceput sa ruleze programul, insa update-ul a rezolvat doar o parte a problemei.
Oracle Security Alert CVE-2013-0422 states that Java 7 Update 11 addresses this (CVE-2013-0422) and an equally severe, but distinct vulnerability (CVE-2012-3174). Immunity has indicated that only the reflection vulnerability has been fixed and that the JMX MBean vulnerability remains. Java 7u11 sets the default Java security settings to "High" so that users will be prompted before running unsigned or self-signed Java applets.  Unless it is absolutely necessary to run Java in web browsers, disable it as described below, even after updating to 7u11. This will help mitigate other Java vulnerabilities that may be discovered in the future.
  Din pacate in versiunea anterioara a Java 7 existau 2 vulnerabilitati care permiteau hackerilor sa exploateze sistemul de operare, Oracle a rezolvat doar una dintre probleme, iar acum Apple a blocat din nou software-ul pentru a proteja utilizatorii. Oracle lucreaza probabil la rezolvarea problemelor care permit hackerilor sa exploateze sistemele de operare cu ajutorul Java, va lansa un update in curand, insa deocamdata nimeni nu stie de ce a ales Apple sa astepte cateva saptamani inainte sa blocheze software-ul si sa isi protejeze utilizatorii.