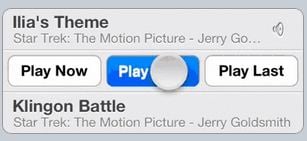 Cyueue este un tweak lansat in cursul acestei zile in Cydia de catre saurik, iar cu ajutorul sau putem genera playlist-uri direct din aplicatia Music a iDevice-urilor noastre. Tweak-ul implementeaza in meniul aplicatiei Music posibilitatea de a efectua un swipe pentru a afisa 3 butoane de optiuni care ne permit sa rulam o melodie acum, sa o setam sa ruleze dupa ce curenta, sau sa o setam sa ruleze la sfarsitul playlist-ului. Tweak-ul genereaza automat playlist-uri cand utilizam optiunile implementate de el, iar acele playlist-uri pot fi vizualizate in meniul special al aplicatiei Music.
Cyueue modifies the Music application to add a playlist called "Cyueue" where songs get "queued" when you are already playing something else, but want to plan the song to play after. Note: you will not see anything change until you attempt to play a song while you are already playing another song. This functionality has been embedded into the Apple Music application itself: when you press a song (while already playing another song), you get a menu:

Play Now & interrupt what you are playing, and play the item right now
Play Next & put the item right after the current one on your upcoming queue
Play Last & put the item at the end of your upcoming queue (after others)

Once you get used to doing this, you can just double-tap on the left, middle, or right of the row to rapidly access Now, Next, and Later, respectively. (Tap-and-hold was considered, but in addition to it being much slower to use than double-tapping, it is very easy to accidentally screw up, leading to a new song starting and the music stopping.) After your upcoming queue is done playing, you will be returned to the songlist you were previously playing. The upcoming queue is exposed as a normal iPod playlist called Cyueue. This playlist is reset each time you start a new play session with Cyueue.
  Cyueue este in momentul de fata disponibil in Cydia in repo-ul lui saurik la pretul de 2.5$.