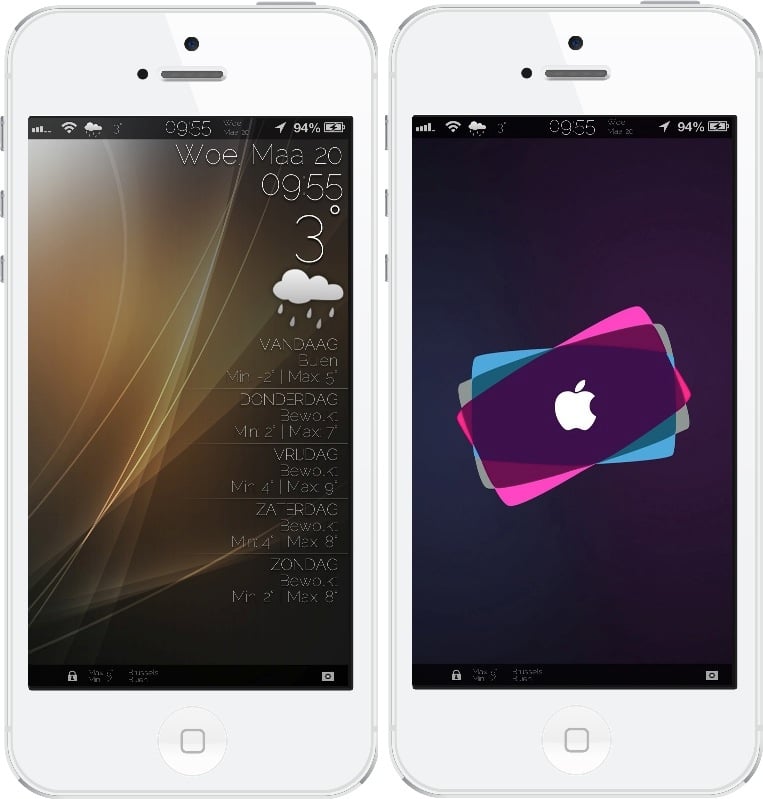 LS Minimalisity i5 si LS Minimalisity i4 sunt doua mod-uri lansate in cursul acestei nopti in Cydia, iar prin intermediul lor putem simpifica si imbunatati aspectul LockScreen-ului iDevice-urilor noastre. Mod-urile vin cu o serie intreaga de wallpaper-uri care pot fi personalizate dupa bunul plac, ele au widget-uri pentru vreme, au un ceas si posibilitatea de a afisa prognoza meteo pentru periaoda urmatoare, deci aveti parte de un pachet complet pentru iPhone-urile voastre. LS Minimalisity i5 si LS Minimalisity i4 sunt disponibile gratuit in repo-ul ModMyi al Cydia.
This is the iPhone 5 version. Iphone 4 version is available as well in another download! Don't be fooled by the preview image. Wallpaper is highly customizable!

6 Languages! En, It, Es, De, Fr, Nl;
Clock 12 or 24h type;
Seconds, for those who want them;
Show/hide clock and/or date in the statusbar;
Dateformat in dd mmm or mmm dd;
3 wallpapersettings

Standard: Sleak dark wallpaper;
Jpegifier : Change your wallpaper using the wallpaper Jpegifier app (free in cydia);
Random : 6 ( a whoppin 60 wallpapers !!!!) packs included. Random pick of a wallpaper each time the lockscreen loads. Categories Nature, Tv, Abstract, City, Game and Macro. Added possibility to add your own pack, for example Family photo's, etc etc;

Don't feel like respringing, no biggie, press the left edge (approx 50 pixels) of the screen and the lockscreen will  anything that isn't hardwired by apple's OS. so the random wallpaper will rerandomize, weather info will reload.;
Weather widget that's incorporated into the statusbar, and swipe bar area…. not enough, get your forecast by tapping the screen! It'll slide right in.;
Plenty of weather modification options included.

Afraid to feel lost in all this customizing…. don't be, extensive readme included in PDF format!