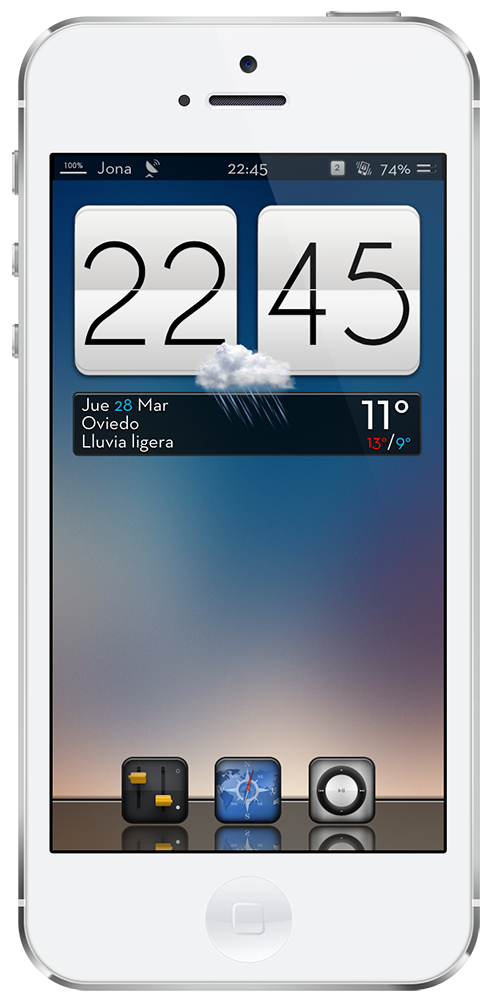 HTC One X Clock iWidget este un nou widget destul de interesant care a fost lansat in cursul noptii trecute in Cydia special pentru posesorii de iPhone-uri care ar fi interesati de o tema specifica HTC-urilor. Daca va uitati la imaginea de mai sus, veti observa ca widget-ul este prezentat in combinatie cu tema Ultimo HD pe care v-am prezentat-o acum cateva zeci de minute. Widget-ul arata exact precum cel de pe HTC-uri, va afiseaza informatii despre vreme si ora intr-un format diferit de cel din iOS si asta este tot.
Requires iWidgets Tweak (read the description of that package to know how to enable it). Nice HTC Clock iwidget for your Springboard.  Works with GPS (myLocation app needed) or woeid code (weather.yahoo), includes 5 languages, celsius/fahrenheit option, etc… all available when activating the widget.
  HTC One X Clock iWidget este disponibil gratuit in repo-ul ModMyi al Cydia si pentru a vedea vremea din Romania trebuie sa instalati fie aplicatia mylocation, fie weather.yahoo pentru a introduce codul locatiei.