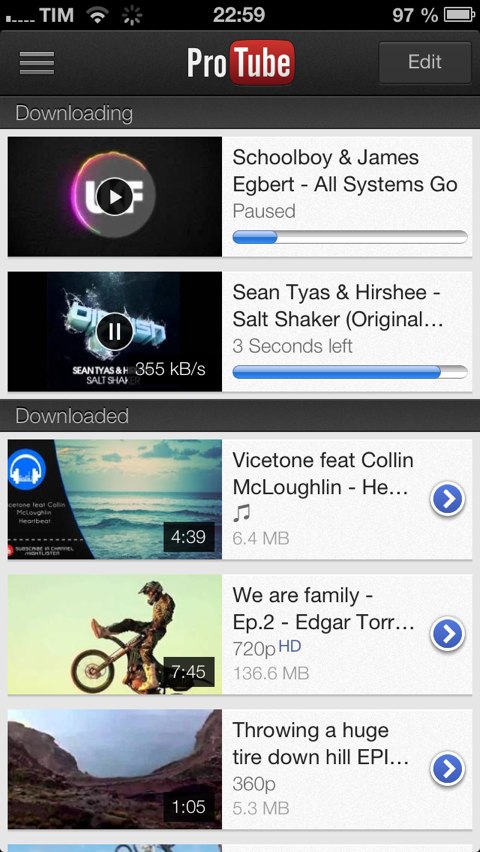 ProTube Extension for YouTube este versiunea pentru iOS a tweak-ului ProTube care a fost lansat acum mai bine de un an de zile in Cydia. Versiunea 2.0 a tweak-ului a fost lansata astazi si ea este compatibila cu noua aplicatie YouTube lansata de catre Google dupa publicarea noului iOS 6. Folosind ProTube Extension for YouTube puteti descarca de pe YouTube orice fel de clipuri video, chiar si in format 1080p, le puteti vizualiza in timp ce se descarca, puteti descarca doar partea audio a unui clip video, puteti rula clipurile video in background, puteti descarca mai multe clipuri video simultan, si lista de functii poate continua.
v2.0:

All new design to fit into the look of the YouTube app
Added support for the latest version of the YouTube app
Added background audio playback for videos
The Download Manager is completely redesigned with awesome new features and even better user experience
Make playlists for downloaded videos for better management
Download can be paused and resumed at any time
Even failed downloads can be resumed where they stopped
Added a full featured music player for downloaded audio files
Added full Bridge integration, never leave the app again when importing songs!
Multi selection editing which makes managing videos so much easier
Added an option for the default playback quality
Added an option to disable autoplay
Added an option to select the audio download quality
Added 18+ age restriction bypass
Added blocked video bypass
Added an option to select the Main page (What to Watch or Subscriptions)
New Tap & hold on a video in a list to download it (no need to start watching the video and then download it)
Overall stability improvements and bug fixes
  ProTube Extension for YouTube este practic prietenul ideal al unui utilizator inrait al website-ului YouTube si cred ca multi dintre voi s-au bucurat de functionalitatea sa pana in prezent. ProTube Extension for YouTube este disponibil la pretul de 2$ in repo-ul BigBoss al Cydia si este compatibil doar cu iPhone/iPod Touch-urile.