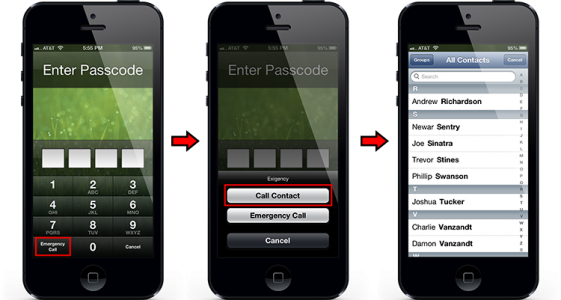 In LockScreen-ul iDevice-urilor care au un cod de siguranta activ exista un buton care ne permite sa plasam apeluri de urgenta, el fiind conceput in ideea de a le oferi utilizatorilor posibilitatea de a suna la servicii precum 112. Exigency este un nou tweak al Cydia care modifica functionalitatea acestui sistem, deoarece in afara posibilitatii de a suna la 112, de exemplu, el ne da posibilitatea de a suna contacte din agenda. Practic in loc sa introduceti codul de siguranta in LockScrenn, apasati butonul pentru apelare de urgenta, apoi alegeti optiunea Call Contact si veti putea suna orice contact doriti.
Call a Contact from the Lock-screen. The emergency-dialer in the iOS Lock-screen is limited to call only emergency numbers, that's where Exigency comes in handy. After installing this tweak, when you will tap on the "Emergency Call" button, it will bring up an action sheet. The action sheet has an option to Call any of your Contacts, right from the Lock-screen. It also has an option to continue to the Emergency Dialer.
  Functionalitatea implementata de catre Exigency inlatura partial protectia codului de siguranta, insa desigur ca fiecare utilizator isi poate modifica terminalul dupa propriile dorinte. Exigency este disponibil gratuit in repo-ul BigBoss al Cydia.