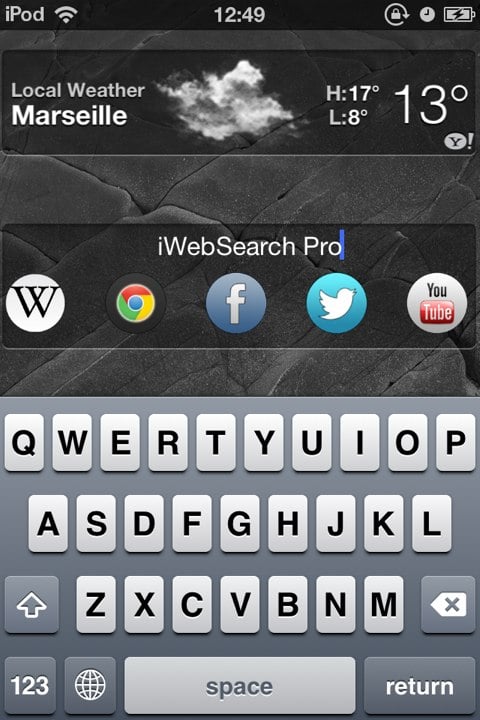 iWebSearch Pro este o aplicatie inedita lansata in cursul noptii trecute in Cydia, iar cu ajutorul sau putem efectua cautari simultane pe mai multe website-uri de pe internet. Aplicatia ne permite sa introducem cuvintele pe care dorim sa le cautam pe internet, iar la apasarea unui buton efectueaza automat cautarea pe cateva dintre cele mai populare website-uri. Ideea este de a oferi utilizatorilor optiunea de a afla rapid tot ceea ce cauta pe internet, iar multi si-au dorit o aplicatie de acest gen cu mult timp in urma.
Works on iOS 5.X and iOS 6.X ONLY. iWebSearch alternative of SLightEnhancerSearch. Using this Application you gonna be able to search around the web with one click.

Engines Supported :

Google
Wikipedia
Facebook
Twitter
Instagram
Cydia
YouTube
Google +
iTunes Store
App Store
iBooks Store
EBay
Amazon
Boncoin (French Online Store)

With all of that I added NC Widget that have a many engines + send SMS or iMessage for who is you wrote his number inside TextField. Hope you like this App. Configure options from Settings app. Notification Center addons must first be enabled from the Settings app, in the Notifications panel.
   iWebSearch Pro are inclusiv un widget in Notifications Center-ul din iOS, prin el putem efectua rapid acelasi cautari, iar in Cydia o gasiti la pretul de 0.99$ in repo-ul BigBoss.