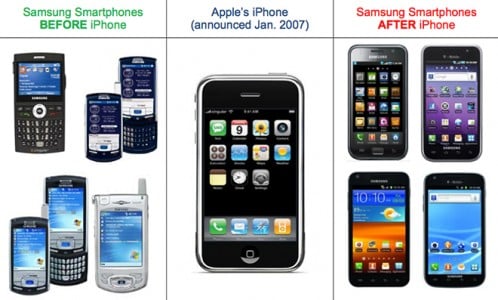 Apple si Samsung au deschise cateva procese in instantele din Germania, insa intr-unul dintre ele instanta ar urma sa sa dea o hotarare favorabila celor de la Apple si sa confirme oficial faptul ca Samsung a copiat design-ul iDevice-urilor. Informatia vine prin intermediul unui avocat care urmareste de cativa ani evolutia proceselor privind brevetele de inventie si care a reusit sa afle de la surse din din interiorul institutie ca pe data de 8 august instanta urmeaza sa isi faca publica hotararea, insa ea nu va fi definitiva, deci va putea fi atacata de catre coreeni.
[Unfairness shall have occurred in particular where a person]

9. offers goods or services that are replicas of goods or services of a
competitor if he
a) causes avoidable deception of the purchaser regarding their commercial origin;
b) unreasonably exploits or impairs the assessment of the replicated goods or
services; or
c) dishonestly obtained the knowledge or documents needed for the replicas;
  Samsung Galaxy S, Galaxy S Plus, Galaxy S II, Galaxy Ace, Galaxy R, Galaxy Wave M si Galaxy S Wi-Fi 4.0 sunt terminalele pentru care va fi data hotararea, iar daca ea va ajunge intr-un final sa ramana definitiva, atunci terminalele ar urma sa fie scoase din vanzare. Chiar si in conditiile in care s-ar ajunge la cel mai rau dintre cazuri, terminalele acestea sunt atat de vechi incat nici nu mai conteaza in ceea ce priveste vanzarile, asa ca Samsung nu va resimti aproape deloc hotararea.