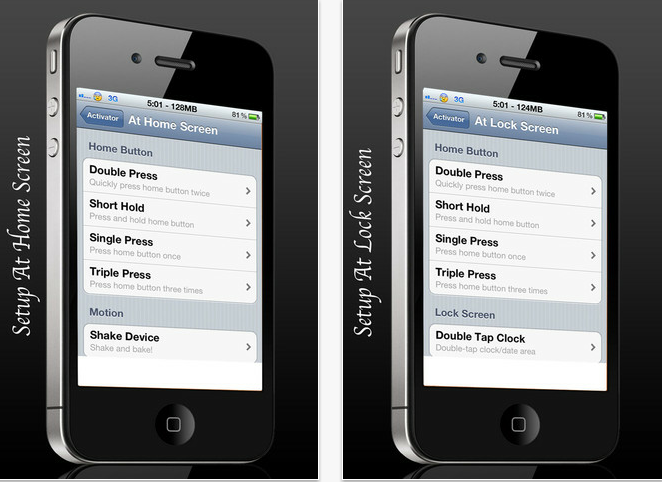 In cursul zilei de ieri versiunea 1.8 a programului Activator a fost lansata in Cydia de catre dezvoltatorul Ryan petrich, el implementand o serie extrem de lunga de functii noi pentru posesorii de iDevice-uri. Printre noutatile cele mai importante se numara posibilitatea de a programa intreprinderea diverselor actiuni in iOS, posibilitatea de a utiliza un buton pentru partajarea de informatii direct din aplicati Settings, posibilitatea de a face poze folosind gesturi, rearanjarea meniului de setari si multe, multe altele.
  Activator este disponibil gratuit in repo-ul BigBoss al Cydia.
1.8.0-1: July 1, 2013
Fix regression whereby the sleep button required a second press to show the lock screen;
Suppress locked/unlocked events on older iOS versions where they don't work properly;
Better show actual state of Flipswitch switches in action banners;
Fix "Restore Assignments" feature on some devices.
1.8: July 1, 2013
Add ability to create scheduled events that can be assigned;
Add support for ringtone actions;
Fix bug whereby swipe/slide gestures would cause the notification center to become inaccessible;
Add Share button to settings app;
Add Device Unlocked and Device Locked events;
Add long hold sleep button event;
Add edge slide gestures;
Hide ads immediately when the donate button is pressed;
Allow selecting which actions show banners;
Support Bluetooth settings pane on iOS5 again;
Allow menus to contain links to themselves;
Fix notification center action not working from inside a menu;
Add a dictation action;
Introduce new public APIs;
Show listener icons in banners;
Rearrange settings pane;
Require latest version of PreferenceLoader;
Conflict with the latest version of QuickDo;
Add additional lock screen clock gestures;
Allow renaming menus;
Show preview image for collapsed groups;
Performance improvements;
Added an Easter egg;
Allow assigning multiple actions to an event, so long as they are compatible;
Updated app icon;
Make certain groups collapsible by default, instead of overflowing after a certain number of actions;
Add "Sleep Button Press with Menu Button" event;
Add "Invoke Shutter" action;
Support custom events triggered by incoming mail;
Send event mode changed notification properly on iOS6;
Support per-app launched and icon flick gestures;
Allow volume controls on the lock screen while media controls are present;
Stash the /Library/Activator folder to lessen disk usage on root partition;
Improve scroll performance of blacklist page;
Add Flipswitch integration;
Allow adjusting sensitivity of slide in gestures;
Allow events to be incompatible with automatic unlocking and make single press home incompatible;
Fix animation regressions in activating apps from the lock screen;
Fix sound action icons on iPad;
Include an activator command that can be run from a shell;
Reduce memory use;
Add localization debugging features (enable with "activator set LALocalizationDebug 1" in a shell);
Make slide in from bottom gestures less sensitive;
Add ability to activate a mail composer to a specific contact's email address;
Add ability to activate a message composer to a specific contact's phone number/email address;
Add ability to directly call a specific contact's phone number;
Improve settings pane's performance;
Allow events that aren't supported on the lock screen to prompt for the passcode or automatically unlock and activate if no passcode is present;
When a large number of actions are present in a single group, collapse the group by default so that the settings pane does not become unwieldy;
Fix "New Message" option's keyboard not showing on iPad;
Add "Smart Cover" events for iPad;
Show alert message when an incompatible assignment is made, to prevent confusion;
Change toggle alert style on lock screen to be less obtrusive;
Fix swipe event causing the notification center not to work;
Fix Virtual Assistant action not working while touches are onscreen;
Add workaround for the kern.maxvnodes bug;
Add new "Cellular" settings listener for iOS6.0 and up;
Add "Slide Off Screen" events;
Add "Icon Flick" events;
Better error handling when package contents are missing;
Allow linking directly to an event's assignment from a settings page;
Allow events to require assignment;
Updated developer API;
Add Dutch localization;
Updated localizations.