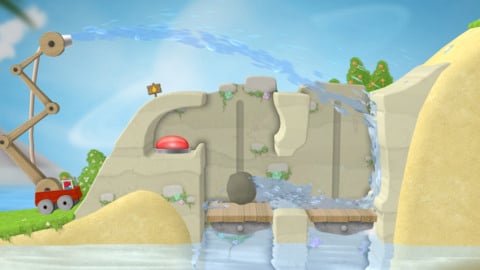 In cursul acestei zile compania Apple a publicat aplicatiile care fac parte din Editor's Choice-ul saptamanii, iar Sprinkle Islands este una dintre alegeri. Aplicatia a fost lansata in cursul zilei de joi in App Store si este o versiune avansata a jocului Sprinkle. Mai exact, voi trebuie sa va utilizati inteligenta pentru a gasi metode cat mai simple de a stinge focurile unor deseuri cosmice cazute pe pamant in urma prabusirii unei nave extraterestre. Dezvoltatorii va pun tot felul de obstacole in fata, deci nimic nu este usor, insa jocul este antrenant si distractiv.
Titan burns again – Award-winning water puzzler Sprinkle is back in a new shape! In a not so distant future, a garbage hauling space ship from Earth gets on the wrong course and burning trash is scattered over the beautiful islands of Titan. Help the Titans as used car tyres and soda cans set their villages on fire! Using intuitive touch controls you control a tiny firetruck, but since the fires are sometimes hard to reach, you need to use obstacles, buttons and elevators to put them out. Your water supply is limited – earn drops by conserving water!

Four distinct islands with a total of 48 levels provide hours of challenging entertainment.
Amazing water physics – The original Sprinkle set a new standard for water in games. Sprinkle Islands improves on that with endless oceans, pools and floating objects.
 Easy controls, challenging gameplay!

The original Sprinkle game has been enjoyed by more than eight million people. Join the fun in this improved version!
  Sprinkle Islands este disponibil in format universal in App Store.
Nume:
Sprinkle Islands
---
Developer: Mediocre AB
Universala
Categoria: Games
Descriere: Titan burns again – Award-winning water puzzler Sprinkle is back in a new shape!
In a not so distant future, a garbage hauling space ship from Earth gets on the wrong course and burning trash is scattered over the beautiful islands of Titan. Help the Tit…
Dimensiunea aplicatiei este: 35.4 Mb
---