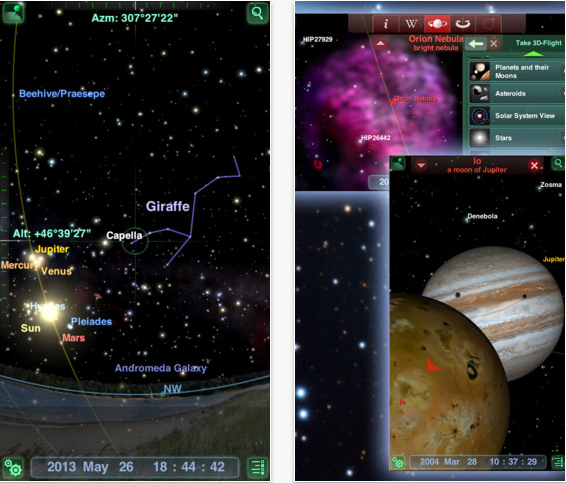 Redshift – Astronomy este o aplicatie lansata de ceva vreme in App Store, insa ea este perfecta pentru pasionatii de astronomie. Desi App Store-ul are disponibile extrem de multe aplicatii care contin informatii privitoare la spatiul cosmic, aceasta este una dintre cele mai complexe dintre ele si ofera extrem de multe informatii. Aplicatia contine imagini de inalta rezolutie cu cele mai importante planete si stele din spatiul cosmic, insa ea le afiseaza intr-un sistem 3D, astfel incat puteti "vizita" planetele din sistemul nostru solar direct de pe propria tableta sau smartphone.
Redshift brings the night sky to your desktop, with all major and dwarf planets, constellations and bright stars – displayed in top quality. The application goes beyond the basic planetarium because it also displays a 3D-model of the nearby part of our Galaxy. Perform various amazing 3-D flights and visit the Moon and all planets in our Solar system. Detailed surface maps display those objects in a close-up right before your eyes. Once you have arrived at your target object, you can enter into an orbit around the celestial body – just like an astronaut in a real spacecraft. 

Or choose the most thrilling option of all: Travel to the stars in the depth of the Galaxy, some of which are up to 3,000 light years away from our home planet! Find selected objects in the sky: By using the position sensors and the compass (3GS or higher), you can reach every celestial body. Turn on the "Follow Sky" mode of your device to identify stars and planets that shine in the real night sky in front of you. Thrilling images present around 500 galaxies, nebulae, star clusters and other Deep Sky objects on your screen – images otherwise available only through the largest telescopes in observatories worldwide. 

Every calculation within the application is done in real time for any given epoch in the 20th and 21st centuries, such as positions of stars and planets, the motion of Earth and the Moon, or flybys of comets. You can easily accelerate or slow down the progress of time by a wheel to watch the thrilling events in the night sky in full detail.
  Unul dintre principalele puncte cheie ale aplicatiei este posibilitatea de a naviga prin preajma planetlor si stelelor, sau direct prin spatiul cosmic, extrem de putine aplicatii oferind o functionalitate similara. Redshift – Astronomy este disponibila in format universal in App Store.
Numele:
Redshift – Astronomy
---
Developer: United Soft Media…
Universala
Categoria: Reference
Descriere: The leading astronomy app featured in Apples Rewind 2011 and 2012 Editors Choices!
* Redshift is as impressive as it is immersive 5/5 macworld.com *
* Gives a whole new meaning to astronomy 2.0 Appfinder…
Dimensiunea aplicatiei este: 126.0 Mb
---