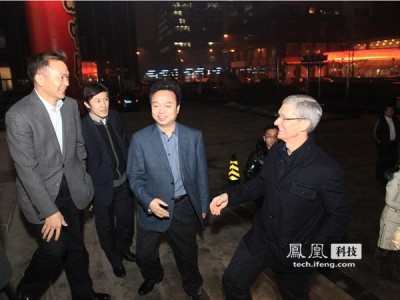 Ieri s-a aflat ca Tim Cook este intr-o vizita oficiala in China, el intalnindu-se cu reprezentantii principalilor operatori de telefonie mobil care sunt parteneri ai Apple. In afara lor, Tim Cook s-a intalnit si cu CEO-ul China Mobile, Xi Guohua, totul intr-o incercare de a aduce terminalul iPhone in oferta celui mai mare operator de telefonie mobila de pe glob. Avand 700 de milioane de clienti, China Mobile este fara discutie o tinta extrem de atractiva pentru Apple, mai ales ca acolo compania ar putea genera vanzari de zeci de milioane de terminale fara prea mult efort.
Apple Inc's CEO Tim Cook met China Mobile Ltd Chairman Xi Guohua in Beijing on Tuesday to discuss cooperation, the Chinese telecoms firm said in an emailed statement, without elaborating. China Mobile is the only Chinese carrier not to have a distribution deal with Apple to sell its iPhone and iPad products.  Last week Apple said April-June sales in greater China, which includes Taiwan and Hong Kong, slumped 43 percent from the previous quarter.
  Desi China Mobile foloseste standarde proprii 3G de telefonie mobila, Apple nu ar avea mari probleme in a dezvolta o versiune speciala a iPhone-urilor pentru acest operator. Desi in China smartphone-urile ieftine sunt la mare cautare, un iPhone 5C s-ar vinde bine prin China Mobile, Apple stie acest lucru si probabil va profita de ocazie pentru a reduce distanta fata de Samsung in ceea ce priveste vanzarile de smartphone-uri.