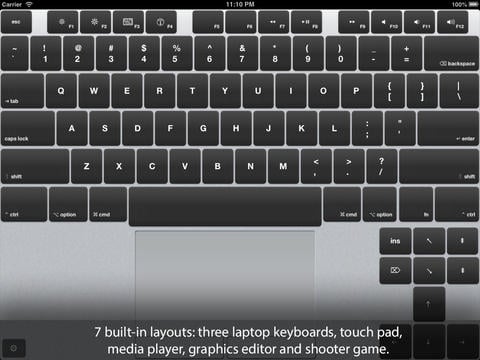 Air Keyboard este o aplicatie disponibila de ceva vreme in App Store-ul companiei Apple, iar cu ajutorul sau putem utiliza tableta iPad ca si tastatura pentru PC-urile noastre. Tastatura virtuala generata de catre aplicatie va pune la dispozitie 88 de taste standard disponibile in orice alta tastatura, insa daca doriti puteti genera singuri si altele dupa bunul plac. Desi aplicatia ne pune la dispozitie si o serie de layout-uri pentru taste, exista totodata posibilitatea de a personaliza layout-ul dupa propriile nevoi, aplciatia permitand personalizarea in totalitate a tastaturii.
Air Keyboard allows you to use your iPad as a wireless keyboard and touch pad for your PC or Mac!
Enjoy a wide low-latency touch pad, native iPad keyboard, full-size computer keyboard with 88 keys or create your own . You can create keyboard layouts by yourself for your own needs. Clone existing layout or create it from scratch, add touch pad or buttons of any size to any position and assign keys or hotkeys to them.

Scrolling gesture support on Windows and Mac – move two fingers on the touch pad.  Full multi-touch support and finger gestures for Windows 8.  "Full" and "Compact" modes have only US layout. "iPad" keyboard mode supports any layout installed in iPad, even if it is not set up in your computer.  For the information about usage of the application such as designing new layouts, please visit the app website: http://airkeyboard.skygears.com If you don't see your computer in the list on the startup-screen, or cannot control some programs, please check your firewall and antivirus! Visit "Troubleshooting" section at
airkeyboard.skygears.com for detailed information.
  Pentru a putea utiliza Air Keyboard fara probleme va trebui sa instalati pe calculator o aplicatie server ce poate fi descarcata de pe acest website, prin intermediul sau facandu-se conexiunea dintre tableta si PC-ul vostru. Aplicatia Air Keyboard este disponibila gratuit in App Store si poate fi utilizata cu PC-uri ce ruleaza Windows sau OS X.
Nume:
Air Keyboard: Remote Mouse, Touch Pad and Custom Keyboard for your PC or Mac
---
Developer: Alexey Filatov
iPad Only
Categoria: Utilities
Descriere: "I use this all the time when travelling – it's just like carrying a wireless keyboard… A really sensible app"
"Works great with my PC. The windows media player/iTunes controlling layout is pretty cool."
Air Keyboard allows you to use your iPad as a …
Dimensiunea aplicatiei este: 4.2 Mb
---