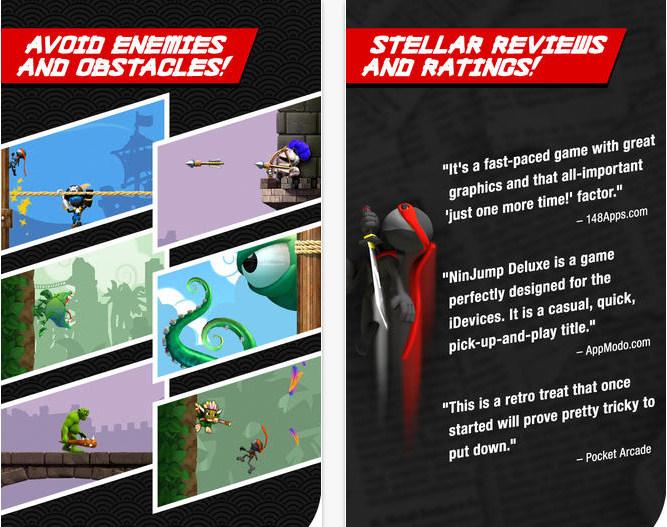 Este din nou sfarsit de saptamana, asa ca vorbim iarasi despre promotia aplicatia gratuita a saptamanii, ea fiind oferita de catre compania Apple pentru toti posesorii de iDevice-uri care ii acceseaza App Store-ul. NinJump Deluxe este numele aplicatiei oferite gratuit de catre compania Apple pana saptamana viitoare si vorbim practic despre un joc in care va trebui sa ghidati un ninja in timp ce efectueaza salturi in diverse environment-uri pentru a escalada ostacolele gandite de catre dezvoltatori pentru aplicatie.
NEW CASTLE LEVEL JUST ADDED! The wildly popular NINJUMP has quadrupled in size in NINJUMP DELUXE! This new version adds three new levels, along with the original, to extend your ninja climbing fun and to further test your dexterity.

Along with the classic NINJUMP level, new Castle, Pirate, and Jungle levels have been added to create a a whole new NINJUMP experience. It is still a fast paced ninja climbing game, where your goal is to rise as high as you possibly can. But, this time you will be avoiding new, more treacherous enemies such as: angry beetles, wacky snakes, evil witch doctors, funky monkeys, mad hornets, bee hives, ninja pirates, cannon balls, peeved parrots and enraged sea monsters. Our goal is to continue to consistently release new levels for this game, so this is only the beginning.
  Trebuie sa va folositi imaginatia si creativitatea pentru a ajuta micutul ninja sa ajunga cat se poate de repede deasupra ostacolelor gandite de catre dezvoltator, diversi monstri si alte NPC-uri standu-va in cale pentru indeplinirea obiectivului. Aplicatia NinJump Deluxe este disponibila gratuit in App Store in format universal.

Numele:
NinJump Deluxe
---
Developer: Backflip Studios
Categoria: Games
Descriere: NEW CASTLE LEVEL JUST ADDED! The wildly popular NINJUMP has quadrupled in size in NINJUMP DELUXE! This new version adds three new levels, along with the original, to extend your ninja climbing fun and to f…
Dimensiunea aplicatiei este: 35.2 Mb
---