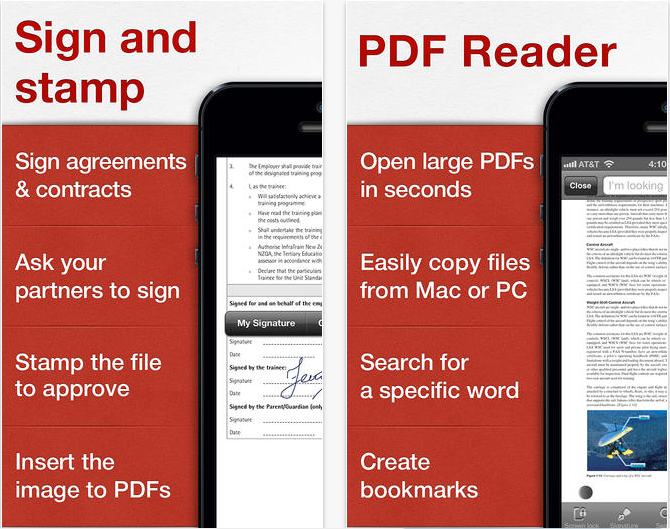 PDF Expert este una dintre aplicatiile publicate de catre cei de la Readlle in App Store-ul companiei Apple, ea oferind optiuni profesionale pentru editarea PDF-urilor direct de pe terminalele iPhone. Folosind acest titlu putem citi/adnota documentele PDF, modificarile fiind compatibile cu aplicatiile Preview sau Adobe Acrobat, aplicatia putand prelua documente de pe orice platformana cloud. Mai mult decat atat, toate modificarile facute PDF-urilor sunt efectuate respectand guideline-uriloe celor de la Adobe, acest lucru permitand editarea highlight-urilor sau a notelor de text.
PDF Expert allows you to read and annotate PDF documents, highlight text, make notes and save these changes being compatible with Preview and Adobe Acrobat. Moreover, PDF Expert is the only iPhone application that can fill PDF forms! PDF Expert can get documents from any place you may need. PDF files from desktop computers, email attachments, documents on the Dropbox, MobileMe iDisk, GoogleDocs and even in other iPhone applications could be accessed with PDF Expert. Annotations made with PDF Expert are saved within the document in accordance with PDF format specification. Thus PDF Expert can edit highlights, text notes and other annotations created in Apple Preview or Adobe Acrobat Reader and vise versa. At the same time this lets you share annotated files with friends and co-workers.

PDF forms made with Adobe Acrobat are supported in PDF Expert. Text fields, check boxes, radio buttons and other form elements work as you expect and all information you entered is saved inside the form. Please note that Dynamic XML PDF Forms made with Adobe LifeCycle should be converted to Static PDF Forms format before using with PDF Expert.
  PDF Expert este disponibila gratuit pentru o perioada limitata de timp, asa ca daca sunteti interesati de ea, ar fi bine sa o descarcati acum.

Numele:
PDF Expert (professional PDF documents reader)
---
Developer: Igor Zhadanov
Categoria: Business
Descriere: Free for one day! Grab it now and learn more at www.readdle.com
PDF Expert allows you to read and annotate PDF documents, highlight text, make notes and save these changes being compatible with Preview an…
Dimensiunea aplicatiei este: 31.2 Mb
---