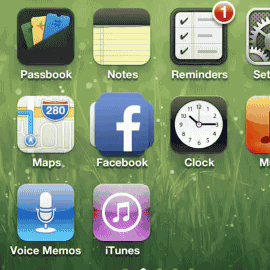 Apex este un tweak despre care v-am vorbit acum cateva zile, cand v-am spus ca el aduce o noua metoda de a grupa in Homescreen aplicatiile disponibile in iDevice-urile noastre, animatia de mai sus prezentand totul cat se poate de clar. Practic in locul clasicelor foldere concepute de catre compania Apple, Apex permite gruparea aplicatiilor intr-un mod cu totul nou, acestea fiind asezate una deasupra celeilalte, aplicatia principala fiind afisate in Homescreen. Metoda implementata de catre acest tweak permite gruparea unui numar de aplicatii mai mic decat cel grupat in foldere, asa ca utilizarea sa este utila numai daca nu aveti multe aplicatii in Homescreen.
Apex lets you group your related apps in a unique, beautifully fun way! Simple and easy to use, Apex helps rid you of folder clutter and save springboard space by tucking away those apps you want quick but discrete access to. Swipe on any icon, select sub-apps you want to add, close group & voila! Those apps are hidden from your home screen, only peeking out from behind the central, apex app. For example, you can hide multiple camera or photo editing apps, behind your main camera app of choice.
  Apex este disponibil la pretul de 1$ in repo-ul BigBoss al Cydia.