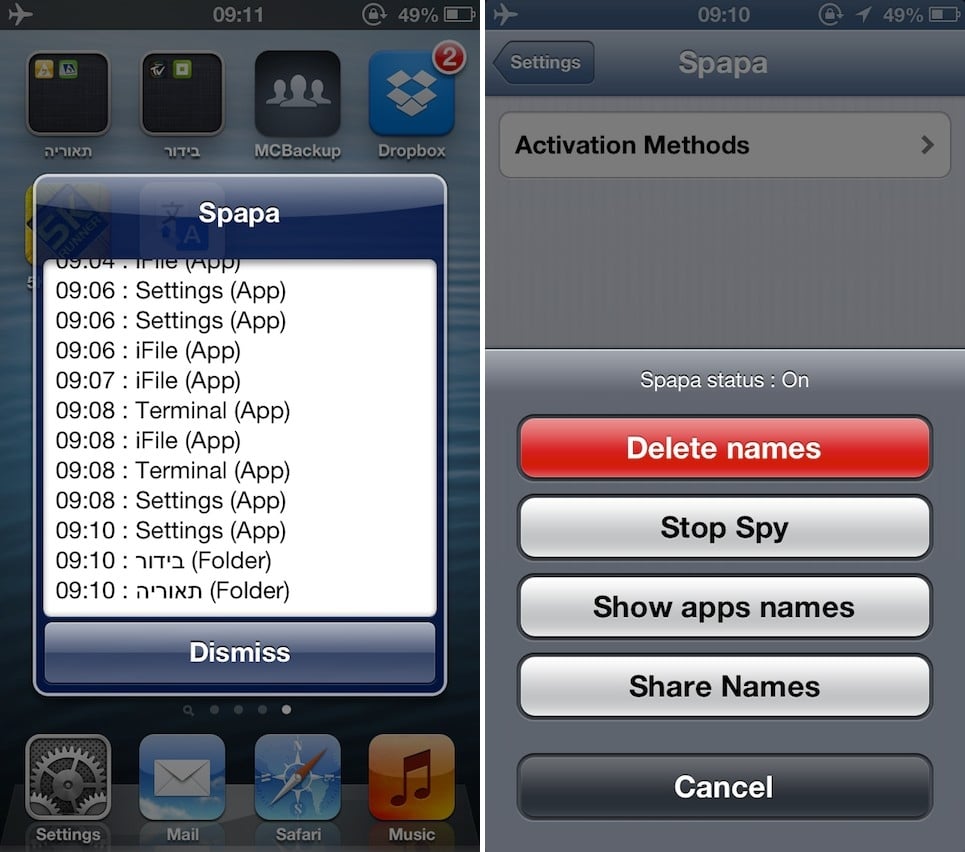 Spapa este un tweak lansat in cursul acestei nopti in Cydia, iar cu ajutorul sau puteti loga accesarile facute pentru aplicatiile din iDevice-urile voastre atat timp cat terminalul este utilizat de o alta persoana. Sa spunem ca un prieten este interesat sa se joace putin cu terminalul vostru si voi lipsiti de langa el pentru cateva minute, dar nu stiti ce aplicatii va accesa el. Ei bine acest tweak va ajuta sa obtineti aceste informatii, el logand automat informatii despre aplicatiile accesate in temrinal in anumite perioade de timp.
When you'll launch apps & Folders it will save which apps you entered , and later you can watch it. It's good if you giving your friend your device , and you want to see which apps he used. It will show also the time each app you launched near to the app name. If the App or Folder locked with Locker then it will Show a special check-mark near the app!

There for simple options:

Start/Stop spying on apps
Delete apps names
Shoe apps names
Share apps names
  Spapa poate fi activat sau dezactivat dupa bunul vostru plac, asa ca puteti afla tot ce se intampla in terminal cand il utilizeaza alte persoane. Tweak-ul este disponibil la pretul de 2$ in repo-ul BigBoss al Cydia.