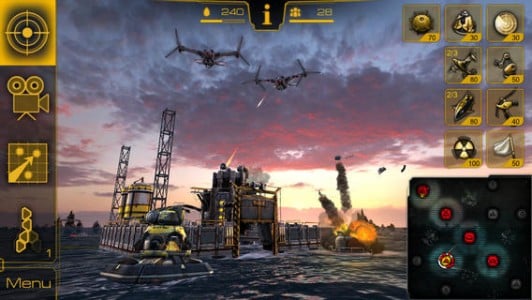 Oil Rush: 3D Naval Strategy este un joc lansat in cursul acestei seri in App Store, el fiind un titlu de strategie navala dedicat utilizatorilor fani ai acestor tipuri de jocuri. Dupa cum puteti vedea si din imagini, gameplay-ul are in centru o lume post-apocaliptica in care un rzboi nuclear a topit calota glaciara, iar navele sunt utilizate pentru lupte intre puterile care domina lumea. Voi veti avea rolul de a controla o armata care se afla in plin razboi pentru a controla principalele resurse de petrol, un motor grafic 3D si un UI bine gandit fiind parte din titlu.
Oil Rush is a 3D naval strategy game that takes place in a post-apocalyptic world; nuclear war has melted the ice caps, changing the face of the planet forever. It features unique gameplay focused on group real time strategy and global-scale decisions. Plan several steps ahead, as every single swipe counts. Get ready to command a naval war between fierce armies striving for the last remaining supplies of oil. Smash through onrushing waves of enemies while experiencing a thrilling story of apocalypse, military technology, and never-ending battles!

GAME FEATURES

Hiqh quality 3D visuals never before seen on mobile devices powered by Unigine technology
Vicious battles, wrathful enemies, and decisive attacks will keep commanders on the warpath for oil
Unique and varied environments: the twilit Antarctic, flooded jungles, sunken cities, Asian villages, great canyons, ruined industrial zones, and more
10 hour campaign with 15 challenging, story-based missions: capture-'em-all, save-the-hero, tower defense, survival, oil retrieval, rescue, defeat-the-boss, and more
Strategic depth allows players to build offensive and defensive weapons with multi-level upgrade options
Tech tree with a rich array of super technologies, including nukes, napalm, submarines, and convertiplanes
15 quick game maps for battles with up to three AI opponents
18 music tracks deliver a unique fusion of heavy industrial groove and electronic ambient/breaks
  Pentru a va indeplini obiectivele aveti la dispozitie o gama variata de nave si de arme pe care le puteti monta pe ele, insa in final cel mai mult conteaza modul in care va organizati bataliile. Oil Rush: 3D Naval Strategy este disponibil sub forma unei aplicatii universale in App Store.

Nume:
Oil Rush: 3D Naval Strategy
---
Developer: Unigine OOO
Universala
Categoria: Games
Descriere: !!! IMPORTANT NOTE !!!
Compatible with:
iPhone 4S, 5, 5C
iPod touch 5th generation
iPad 2, 3, 4
iPad mini
Oil Rush is a 3D naval strategy game that takes place in a post-apocalyptic world; nuclear war has melted the ice caps, changing the face of the…
Dimensiunea aplicatiei este: 199.8 Mb
---