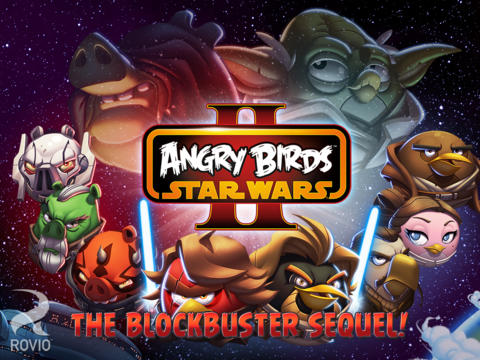 Angry Birds Star Wars II este cea de-a doua versiune a jocului Angry Birds Star Wars, compania Rovio lansadu-l in App Store cu doar cateva luni de zile in urma. Desi nu a trecut extrem de mult timp de la lansarea oficiala, astazi compania Rovio a lansat ce de-al doilea update important pentru Angry Birds Star Wars II, acesta aducand 40 de nivele pentru ambele factiuni prezente in joc si 4 nivele secrete, noi caractere gratuite(Padme, Capitanul Panaka si Zam Wessel), toate disponibile fara cost pentru cei care au cumparat deja aplicatiile.
Continue the fight against the Bird or Pork Side in the latest Battle of Naboo chapter with 44 new levels and 3 new free characters!
20 NEW PORK SIDE LEVELS! Launch an attack on Naboo's capital city and face the Jedi Master Qui-Gon Jinn in the big boss fight!
20 NEW BIRD SIDE LEVELS! Face the enemy on the devastated battlefields of Naboo and then continue the battle in space!
NEW SECRET LEVELS! Find the hidden maps to unlock 4 secret levels!
NEW FREE CHARACTERS! Play as Padme, Captain Panaka and Zam Wesell for free!
  Angry Birds Star Wars II este disponibil in doua versiuni in App Store, una compatitibila cu iPhone/iPod Touch si una compatibila cu tableta iPad.
---
Numele:
Angry Birds Star Wars II
---
Developer: Rovio Entertainme…
Universala
Categoria: Games
Descriere: The Force is strong with this one. Get ready for Angry Birds Star Wars II the epic follow-up to the #1 smash hit game! Based on the Star Wars movie prequels, use the Force for good against the greedy Pork…
Dimensiunea aplicatiei este: 43.9 Mb
---
Numele:
Angry Birds Star Wars II
---
Developer: Rovio Entertainme…
Universala
Categoria: Games
Descriere: The Force is strong with this one. Get ready for Angry Birds Star Wars II the epic follow-up to the #1 smash hit game! Based on the Star Wars movie prequels, use the Force for good against the greedy Pork…
Dimensiunea aplicatiei este: 43.9 Mb
---