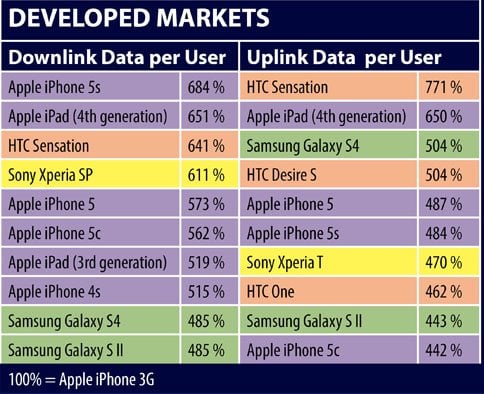 De ani de zile Apple are ocazia de a se lauda cu faptul ca iDevice-urile sale genereaza cel mai mare trafic de date pentru navigare pe internet, iar un recent studiu nu face altceva decat sa confirme acest lucru. Fiind unul dintre putinele studii efectuate la nivel global, acesta ne demonsteraza ca iPhone 5S si iPad 4 genereaza un trafic de date enorm pentru descarcarea de continut de pe internet, HTC Sensation si iPad 4 generand cel mai mare trafic de upload.
Users of the latest iPhone 5s consume more downlink data than any other smartphone users in both markets under study, consuming almost seven times and twenty times as much as the benchmark iPhone 3G users. This is consistent with the trend seen over the past three years where users of the flagship iPhone devices were the most data-hungry smartphone users. As in past years, we are not in a position to directly identify the root causes of this data consumption.
  Interesant este si ca posesorii de terminale iPhone 5S genereaza cu 20% mai mult trafic de date decat posesorii de terminale iPhone 5 sau iPhone 5C, diferenta fiind mult mai mare in cazul iPad 3 sau iPhone 4S. Din pacate pentru Samsung, terminalul Samsung Galaxy S4 se plaseaza pe o pozitie buna doar in cazul upload-ului de date, iar Samsung Galaxy S3 nu exista in top, fratele sau mult mai mic fiind prezent multumita informatiilor adunate de catre cercetatori.
  Studiul a fost efectuat pe un numar de aproximativ 1 milion de utilizatori din diverse zone de pe glob.