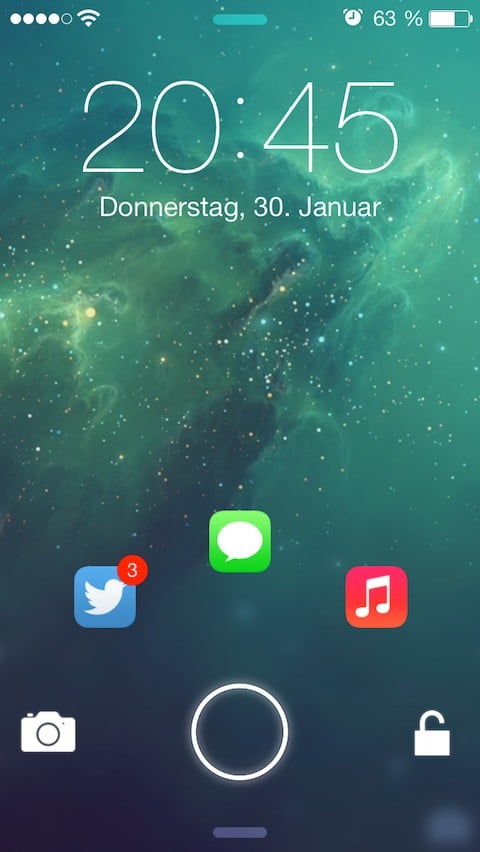 JellyLock7 este versiunea pentru iOS 7 a unui tweak lansat cu mult timp in urma pentru iOS 6, el oferindu-ne posibilitatea de a accesa rapid orice aplicatie favorita direct din LockScreen-ul iDevice-urilor noastre. Practic va alegeti aplicatiile pe care doriti sa le puteti accesa din LockScreen, apoi o simpla tragere a inelului alb in dreptul iconitei aplicatiei o va deschide fara ca voi sa fiti nevoiti sa deblocati terminalul in prealabil. Dupa cum puteti vedea tweak-ul afiseaza inclusiv notificari pentru aplicatii in LockScreen, asa ca veti sti daca trebuie sa deschideti o anumita aplicatie sau nu.
JellyLock is a lock screen app launcher, that is super convenient to use. Drag a grabber to your favorite application to launch it without unlocking your device first. Assign up to 5 shortcuts, that optionally display badges counting missed notifications. It features an option, allowing you to access your favorite apps without the need to enter your pass code. You can also change the circle size, color and alpha in Settings. JellyLock7 supports all iPhones and iPads running iOS 7.0.x.
  JellyLock7 are un meniu de setari disponibil in aplicatia Settings a iOS pentru administrarea sa, iar daca sunteti interesati de el il veti gasi gratuit in repo-ul BigBoss al Cydia.