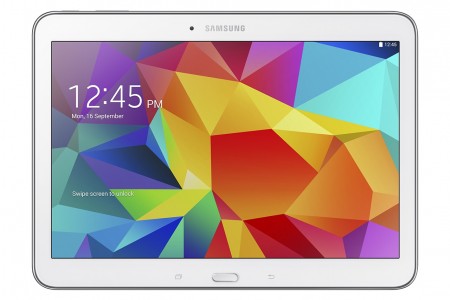 In weekend v-am prezentat pentru prima oara Samsung Galaxy Tab 4, noul model al tabletelor high-end ale Samsung. Daca atunci vedeam imaginile doar cu titlu de zvon, astazi Samsung a lansat Samsung Galaxy Tab 4 pentru utilizatori, versiunile de 7 inch, 8 inch si 10.1 inch fiind disponibile pentru achizitie din Q2 2014 la un pret pe care compania inca nu l-a anuntat, dar probabil el va fi similar modelelor comercializate acum, versiunea de 8 inch fiind comercializata cu 300$ in SUA. Toate modelele Samsung Galaxy Tab 4 au un procesor quad-core de 1.2 GHz, rezolutie 1200 x 800 pentru ecrane, 1.5 GB RAM, camere de 1.3 megapixeli si cam atat.
  Desi pare greu de crezut in baza specificatiilor, aceste trei modele vor concura cu toate tabletele iPad ale celor de la Apple incepand din lunile urmatoare.
Perfect for all ages, Samsung's next-generation Galaxy Tab4 line offers an exceptional multimedia experience in a more premium and portable design, making it ideal for viewing or sharing content with friends and family.

Rich Multimedia Experience
• Available in 10.1-inch, 8.0-inch and 7.0-inch screen sizes, the Galaxy Tab4's vivid WXGA display with a 16:10 screen ratio provides users with a brilliant viewing experience while watching videos, playing games, or reading digital contents.
• With Multi Window functionality, users are able to seamlessly switch between apps and windows, as well as drag and drop contents with ease.

Fun & Shareable Services*
• The new Galaxy Tab4 line is perfect for the whole family as it comes equipped with a number of fun and shareable services allowing users to access content and stay connected with friends wherever they are, including:
o Group Play: Share and play music, documents and games with friends in realtime
o Samsung Link: Share and play content across smart devices anytime, anywhere
o WatchON: Watch TV shows and movies on any device, anywhere in your home or on the go.

Sleek & Portable Designs
• The Galaxy Tab4 line all feature a textured, premium look and feel back cover.
• With a slim design and weights, the Galaxy Tab4 10.1-inch, 8-inch and 7-inch models provide maximum portability while still allowing users to enjoy beautiful screens.

Availability:
The new Samsung Galaxy Tab4 line will be offered in a choice of Black or White globally beginning in 2Q, 2014.