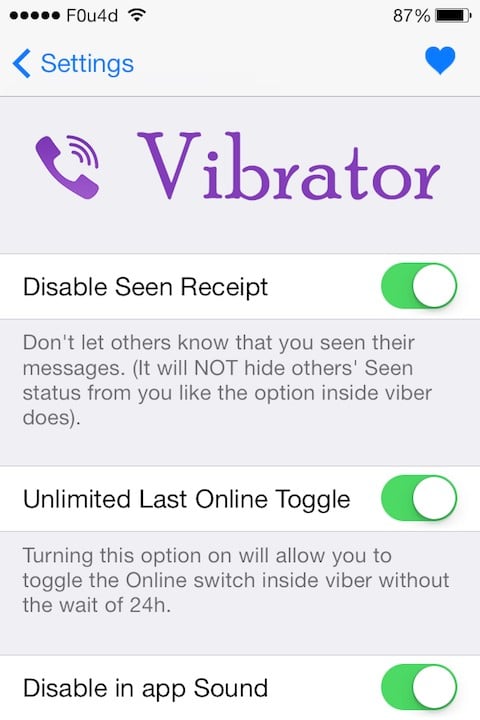 Vibrator este un tweak disponibil din cursul noptii trecute in Cydia, iar el a fost conceput special pentru a potenta functionalitatea aplicatiei Viber Messenger. Folosind Vibrator putem dezactiva sistemul care afiseaza ultima noastra logare in aplicatie, putem schimbare oricate statusuri dorim, putem dezactiva sunetele aplicatiei, putem dezactiva informatiile despre locatie, dezvoltatorul sau promitand ca alte functii urmeaza sa fie implementate in viitor.
Vibrator adds the most wanted features to Viber Messenger. Current Features:

Disable Seen Receipt: 

Don't let others know that you seen their messages. (It will NOT hide others' Seen status from you like the option inside viber does)

Unlimited Online Status Toggle: 

Turning this option on will allow you to toggle the Online switch inside viber without the wait of 24hours

Disable in App Sound: 

Mute annoying sounds of sent and received messages inside viber

Disable Location: C

ompletely disable the Location Services in viber
  Vibrator este disponibil gratuit in repo-ul BigBoss al Cydia.