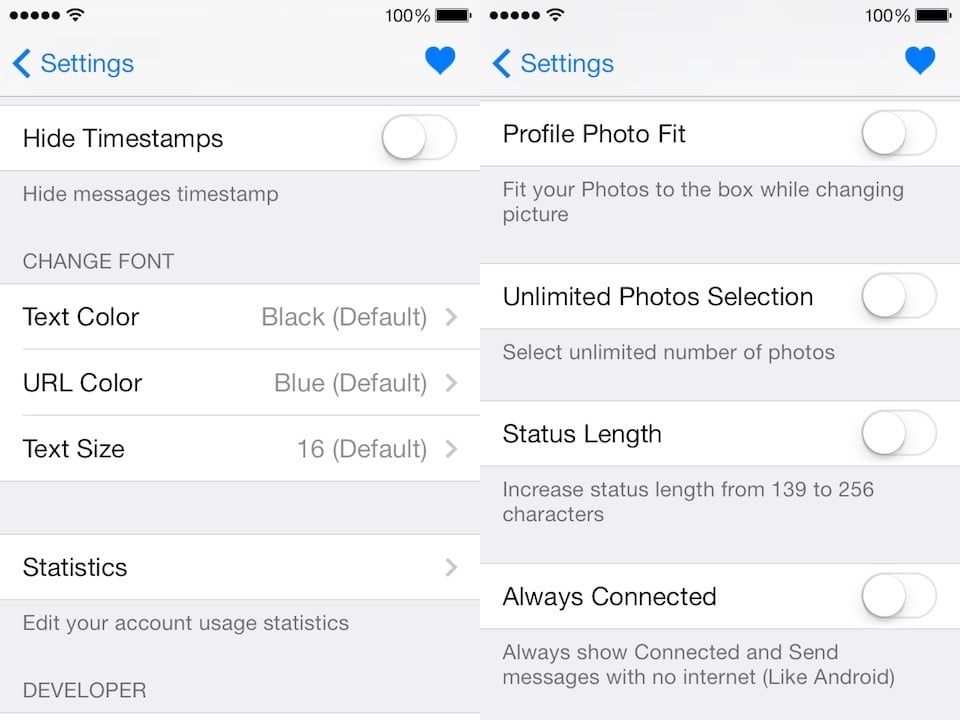 Watusi este un tweak lansat in cursul serii trecute in Cydia, iar cu ajutorul sau putem implementa o multitudine de functii noi pentru aplicatia WhatsApp Messenger din App Store. Conform descrierii facute de catre dezvoltatori, tweak-ul ne permite sa: afisam doar ultima data pentru logare in aplicatie,  dezactivam rapoartelor de citire, crestem lungimea mesajelor trimise, aranjam pozele in casutele de profil, trimitem multiple poze catre prieteni, afisam butonul de trimitere chiar si cand suntem deconectati, afisam un mesaj care ne intreaba daca dorim sa sunam o persoana, aplicam o tastatura neagra, ascundem timestamp-urile mesajelor, modificam fonturile si nu doar atat.
Watusi is an all in one tweak for WhatsApp Messanger. Current Features:

Freeze LastSeen: Doesn't update your lastseen when you open WhatsApp. You won't be able to see others as Online but you will see their last Lastseen;

Read Receipts: 

Other people will not see that you have received their messages. (NOTE: you will receive the messages again when WhatsApp is closed from Background, this is server sided and not held on the device);
Status Length: Increase status length from 139 to 256 characters;

Profile Photo Fit: 

Fit your photos to the box when changing picture;

Unlimited Photos Selection: 

Select unlimited number of photos when sending;

Always Connected:  Always show as connected to enable Send button while offline. (Same as Android);

Ask for call: 

Always ask before calling someone using the call button;

Dark Keyboard: 

Change your keyboard color to dark style;

Disable Landscape: 

Disable landscape mode even if device rotation is enable;

Hide Timestamps: 

Hide messages timestamps;
Change Font:

Text Color;
URL Color;
Text Size.
  Separat de acestea, Watusi ne permite sa vizualizam statistici privind numarul de mesaje primise sau citite, numarul de MB consumati, spatiul ocupat de mesaje si ultima data in care a fost resetat sistemul. Watusi este disponibil la pretul de 1$ in repo-ul BigBoss al Cydia.
Change Usage Statistics

Received Messages;
Sent Messages;
Media Bytes Sent;
Media Bytes Received;
Message Bytes Sent;
Message Bytes Received;
Last Reset Date.