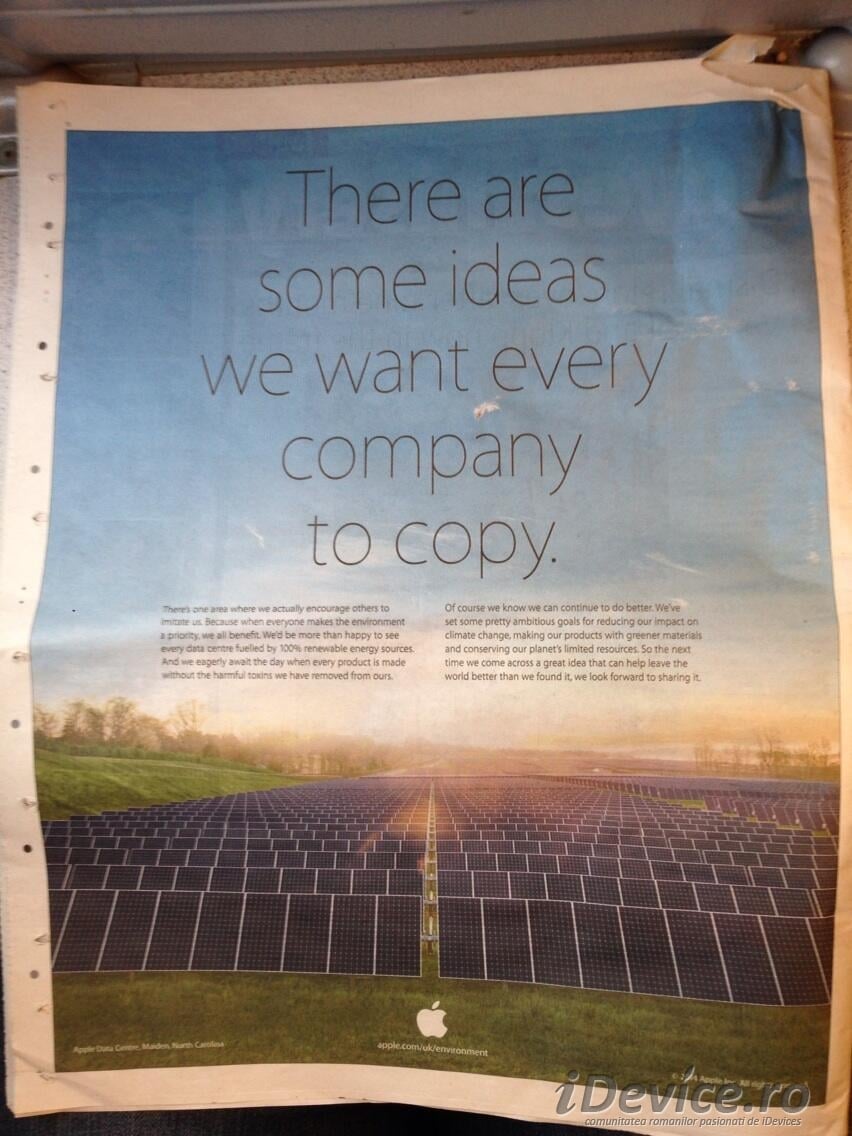 In cursul zilei de ieri compania Apple si-a actualizat pagina in care ofera detalii despre eforturile depuse pentru protejarea mediului inconjurator, Tim Cook explicand intr-un clip video modul in care compania sa investeste sume serioase de bani pentru sustinerea diverselor proiecte in care este implicata. Ca parte a acestei campanii de demonstrare a faptului ca salvarea planetei este unul dintre obiectivele Apple, compania a cumparat spatiu publicitar in ziare de mare circulatie de pe intregul glob, prezentandu-si initiativ,a insa ironizand Samsung in acelasi timp.
There's one area where we actually encourage others to imitate us. Because when everyone makes the environment a priority, we all benefits. We'd be more than happy to see every data centre fuelled by 100% renewable energy sources. And we eagerly await the day when every product is made without the harmful toxins we have removed from ours.
  Facand referire indirecta la faptul ca Samsung a copiat diverse tehnologii ale sale, Apple sustine ca initiativa sa pentru protejarea planetei este o idee pe care toate companiile ar trebui sa o copieze. Fara a spune in vreo propozitie ca Samsung este vizata, Apple ne da foarte clar de inteles ca Samsung este tinta atacului sau si ironia este pe deplin meritata de catre coreeni.
Of course we know we can continue to do better. We've set some pretty ambitious goals for reducing our impact on climate change, making our products with greener materials and conserving our planet's limited resources. So the next time we come across a great idea that can help leave the world better than we found it, we look forward to sharing.