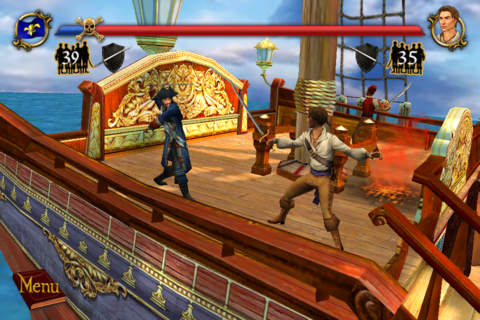 Sid Meier's Pirates! este un joc lansat cu destula vreme in urma in App Store, el fiind dezvoltat de catre celebra companie 2K Games sub titlulatura Sid Meier. Dupa cum ii spune si numele, jocul are in centru faimoasa si complicata lume a piratilor, voi avand rolul de a prelua controlul asupra unora dintre cele 27 de nave concepute de catre dezvoltatori pentru noi. Fiind un capitan al piratilor, unor nave de razboi, rolul vostru va fi de a va ghida echipajele intr-o aventura care se terminal prin acumularea unei averi impresionante culese de pe vasele scufundate. In timpul acestei aventuri voi veti fi implicati atat in lupte navale, cat si in lupte corp la corp cu marinarii navelor care va ies in cale, iar voi trebuie sa faceti tot ce va sta in putinta pentru a le scufunda.
All hands on Deck! Sid Meier's Pirates! is an exciting high-seas adventure that allows buccaneers to helm one of 27 fully customizable ships as you descend upon unsuspecting ports of call to amass a motley crew of seafaring bandits. As a fearless Pirate Captain you will collect hidden treasure maps, undertake daring missions and courageous rescues, and swiftly hand out pirate-style justice to local braggarts at every port. The wild call of the ocean will lure you back to sea where you'll encounter enemy pirates and engage in mind-blowing open sea battles unlike any other game before on the iPhone.

Take the helm of 27 ships and customize them with assorted ammo, cannons and other upgrades
The classic adventure by renowned creator Sid Meier, re-imagined for the iPhone to take full advantage of touch controls
Use the iPhone's touch controls to parry, counter and effectively out duel your opponents into submission with lightning quick moves onboard ships, in taverns, and even in the exclusive Governor's mansion
Challenge and pursue the most famous pirates in history, including Blackbeard, Captain Kidd and Henry Morgan
  Sid Meier's Pirates! este disponibil in doua versiuni separate in App Store, fiecare dintre ele fiind disponibile la pret redus.
---
Nume:
Sid Meier's Pirates!
---
Developer: 2K Games
Categoria: Games
Descriere: All hands on Deck! Sid Meier's Pirates! is an exciting high-seas adventure that allows buccaneers to helm one of 27 fully customizable ships as you descend upon unsuspecting ports of call to amass a motley crew of seafaring bandits. As a fearless Pirate C…
Dimensiunea aplicatiei este: 440.2 Mb
---
Nume:
Sid Meier's Pirates! for iPad
---
Developer: 2K Games
 iPad Only
Categoria: Games
Descriere: All hands on Deck! Sid Meier's Pirates! is an exciting high-seas adventure that allows buccaneers to helm one of 27 fully customizable ships as they descend upon unsuspecting ports of call to amass a motley crew of seafaring bandits. As a fearless Pirate …
Dimensiunea aplicatiei este: 435.9 Mb
---