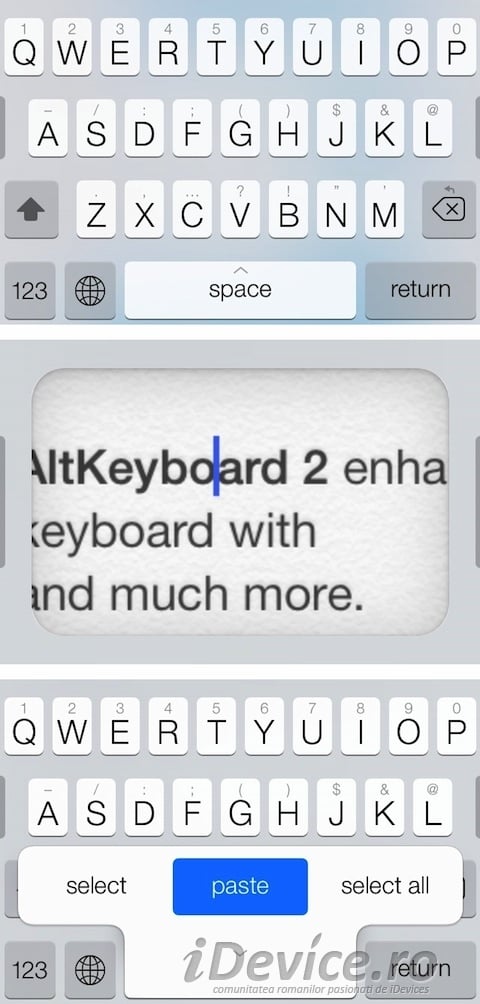 AltKeyboard 2 (iOS 7) este un tweak lansat in cursul noptii trecute in Cydia, iar cu ajutorul sau putem implementa o tastatura mult mai utila pentru iDevice-urile noastre care ruleaza iOS 7. Dupa cum puteti vedeti deja din imaginea de mai sus, intreaga tastatura a sistemului de operare este modificata pentru a include multiple caractere in dreptul fiecarui buton al sistemului de operare.
AltKeyboard 2 enhances your keyboard experience with a familiar yet revamped way of typing on iOS.  The Keyboard portion of AKB2 lets you quickly input non-alphabetic or capital characters from your keyboard, without having to switch back & forth between iOS keyboard modes.
  Ideea din spatele AltKeyboard 2 (iOS 7) este de a ne face mult mai productivi prin simplificarea accesului la tastele care in mod normal sunt disponibile prin cautarea caterelor gandite pentru tastatura. Mai mult decat atat, tastatura permite intreprinderea rapida a unor actiuni care necesta in mod normal atingerea ecranului, selectarea, copierea, sau lipirea de teste putand fi facuta doar facand swipe-uri peste butoane.
Simply flick up on a key to input its alternate numeric or special character (displayed near the top of each key), or flick down to input its capital form. Flick up on Auxiliary Alts (backspace, shift, return, etc) to perform other functions such as undo, define or deselect/dismiss auto-correct. You can also slide up on the space bar to access text editing like select, copy, cut, paste, etc—all straight from your keyboard with a single gesture!
  AltKeyboard 2 (iOS 7) este disponibil la pretul de 3$ in repo-ul BigBoss al Cydia.