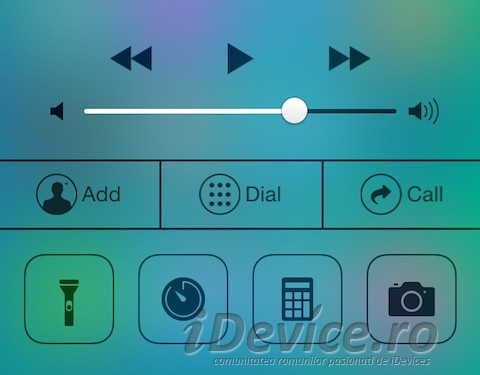 Addial for iOS 7 este un tweak disponibil din cursul serii trecute in Cydia, iar prin intermediul sau putem adauga in Control Center-ul iOS 7 butoane pentru apelare rapida a orcarui numar de telefon. Dupa cum puteti vedea deja din imaginea de mai sus, tweak-ul implementeaza in Control Center un buton pentru adaugarea unui contact, unul pentru deschiderea dialer-ului aplicatiei Phone si unul pentru deschiderea listei de apeluri.
When Addial was released for iOS 6, it was really liked by many users – because it didn't do anything groundbreaking but it extended the ability of the phone app – the most important app on your iPhone. This is why I decided to re-design Addial specifically for iOS 7, and here it is. It's a simple CC widget with a beautiful 3 button layout that lets you add, dial and call contacts instantly.
  Folosind oricare dintre aceste butoane putem accesa rapid aplicatia Phone din orice meniu al iOS 7 fara a mai fi nevoiti sa inchidem vreo aplicatie sau chiar sa deblocam terminalele. Practic Addial for iOS 7 simplifica extrem de mult metodele de accesare a acestor trei functii ale aplicatiei Phone si in esenta aceasta este menirea oricarui tweak de acest gen.
What if you want to quickly dial a number while playing a game? What if you want to quickly add someone to your contacts without having to switch to another app? What if you want to call your girlfriend instantly after you saw her latest snapchat?
  Addial for iOS 7 este disponibil la pretul de 1$ in repo-ul BigBoss al Cydia.