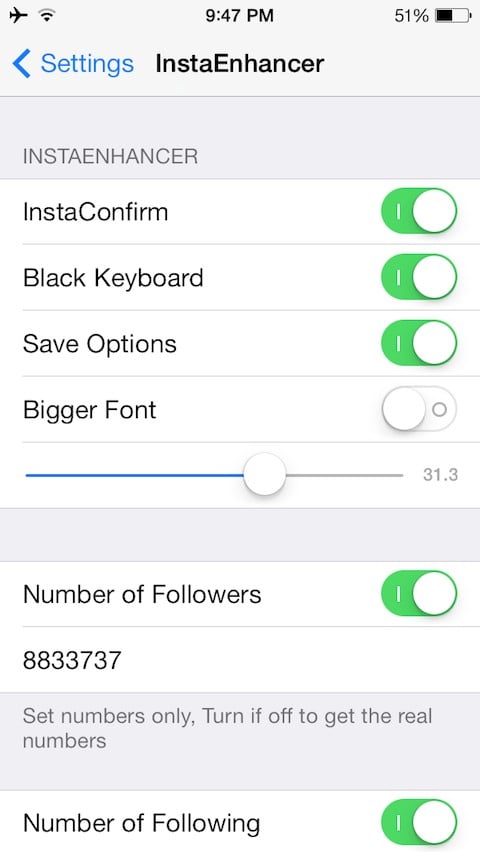 InstaEnhancer este un tweak disponibil din cursul serii trecute in Cydia, iar cu ajutorul sau putem implementa o multitudine de functii utile pentru aplicatia Instagram disponibila in App Store. Mai exact, aplicatia afiseaza alerte pentru like-uri, are acum o tastatura neagra, ofera optiunea de a salva poze sau clipuri video, afiseaza numarul de urmaritori/urmariti, afiseaza numarul de like-uri si cam atat.
InstaConfirm (displays a UIAlert when double tapping on a photo to ask if you are sure that you want to like the picture);
Black Keyboard (change keyboard's color to black);
Save options (added a save button in the action Sheet under every photo and video that enables saving photos/videos to gallery);
Bigger font with a Slider to customize the size of text you want;
Number of followers (enter the number of followers you want to appear);
Number of Following (enter the number of followings you want to appear);
Number of Likes (enter the number of likes you want to appear under every photo or video).
  Toate aceste functii nu sunt in mod normal disponibile in aplicatia lansata de catre cei de la Instagram si nici nu se stie daca vor fi vreodata, asa ca alta metoda de a le avea nu exista. InstaEnhancer este disponibil GRATUIT in repo-ul BigBoss al Cydia.