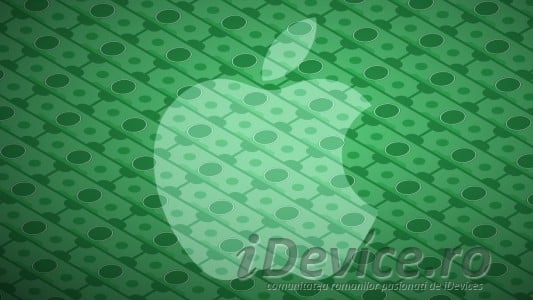 Cu doar cateva minute in urma compania Apple a anuntat rezultatele financiare pentru Q3 2014 si vorbim despre 35.2 milioane de iPhone-uri, 13.2 milioane de tablete iPad, 4.4 milioane de Mac-uri, 2.9 milioane de iPod-uri cu incasari de 37.43 miliarde de dolari si profit de 7.7 miliarde de dolari. Majoritatea analistilor se asteptau ca Apple sa anunte rezultate slabe pentru acest trimestru fiscal, insa iata ca lucrurile nu sunt chiar asa.
  Apple anuntase ca se astepta sa incaseze 36 de miliarde de dolari in cursul Q3 2014, deci vorbim despre o depasire a propriilor estimari, insa si o crestere fata de aceeasi perioada a anului trecut. In aceeasi perioada a anului trecut Apple a inregistrat incasari de 35.3 miliarde de dolari cu profit de 6.9 miliarde de dolari, marja companiei crescand la 39.4% fata de 36.9% inregistrata in aceeasi perioada a anului trecut.
In Q3 2013 Apple vindea 31.2 milioane de iPhone-uri, 14.6 miioane de tablete iPad si 3.8 milioane de Mac-uri, deci vorbim de cresteri semnificative in vanzarile de iPhone/Mac, insa si de o scadere importanta in vanzarile de tablete. Per total rezultatele financiare sunt bune pentru cei de la Apple, exceptie facand vanzarile de tablete iPad si de iPod-uri care se afla intr-o continua scadere fata de aceeasi perioada a anului trecut.
Apple Reports Third Quarter Results

iPhone, Mac & Services Growth Drive Record June Quarter Revenue & 20% EPS Growth

CUPERTINO, California—July 22, 2014—Apple® today announced financial results for its fiscal 2014 third quarter ended June 28, 2014. The Company posted quarterly revenue of $37.4 billion and quarterly net profit of $7.7 billion, or $1.28 per diluted share. These results compare to revenue of $35.3 billion and net profit of $6.9 billion, or $1.07 per diluted share, in the year-ago quarter. Gross margin was 39.4 percent compared to 36.9 percent in the year-ago quarter. International sales accounted for 59 percent of the quarter's revenue.

Apple's board of directors has declared a cash dividend of $.47 per share of the Company's common stock. The dividend is payable on August 14, 2014, to shareholders of record as of the close of business on August 11, 2014.

"Our record June quarter revenue was fueled by strong sales of iPhone and Mac and the continued growth of revenue from the Apple ecosystem, driving our highest EPS growth rate in seven quarters," said Tim Cook, Apple's CEO. "We are incredibly excited about the upcoming releases of iOS 8 and OS X Yosemite, as well as other new products and services that we can't wait to introduce."

"We generated $10.3 billion in cash flow from operations and returned over $8 billion in cash to shareholders through dividends and share repurchases during the June quarter," said Luca Maestri, Apple's CFO. "We have now taken action on over $74 billion of our $130 billion capital return program with six quarters remaining to its completion."

Apple is providing the following guidance for its fiscal 2014 fourth quarter:

revenue between $37 billion and $40 billion
gross margin between 37 percent and 38 percent
operating expenses between $4.75 billion and $4.85 billion
other income/(expense) of $250 million
tax rate of 26.1 percent

Apple will provide live streaming of its Q3 2014 financial results conference call beginning at 2:00 p.m. PDT on July 22, 2014 at www.apple.com/quicktime/qtv/earningsq314. This webcast will also be available for replay for approximately two weeks thereafter.

This press release contains forward-looking statements including without limitation those about the Company's estimated revenue, gross margin, operating expenses, other income/(expense), and tax rate. These statements involve risks and uncertainties, and actual results may differ. Risks and uncertainties include without limitation the effect of competitive and economic factors, and the Company's reaction to those factors, on consumer and business buying decisions with respect to the Company's products; continued competitive pressures in the marketplace; the ability of the Company to deliver to the marketplace and stimulate customer demand for new programs, products, and technological innovations on a timely basis; the effect that product introductions and transitions, changes in product pricing or mix, and/or increases in component costs could have on the Company's gross margin; the inventory risk associated with the Company's need to order or commit to order product components in advance of customer orders; the continued availability on acceptable terms, or at all, of certain components and services essential to the Company's business currently obtained by the Company from sole or limited sources; the effect that the Company's dependency on manufacturing and logistics services provided by third parties may have on the quality, quantity or cost of products manufactured or services rendered; risks associated with the Company's international operations; the Company's reliance on third-party intellectual property and digital content; the potential impact of a finding that the Company has infringed on the intellectual property rights of others; the Company's dependency on the performance of distributors, carriers and other resellers of the Company's products; the effect that product and service quality problems could have on the Company's sales and operating profits; the continued service and availability of key executives and employees; war, terrorism, public health issues, natural disasters, and other circumstances that could disrupt supply, delivery, or demand of products; and unfavorable results of other legal proceedings. More information on potential factors that could affect the Company's financial results is included from time to time in the "Risk Factors" and "Management's Discussion and Analysis of Financial Condition and Results of Operations" sections of the Company's public reports filed with the SEC, including the Company's Form 10-K for the fiscal year ended September 28, 2013, its Form 10-Q for the quarter ended December 28, 2013, its Form 10-Q for the quarter ended March 29, 2014, and its Form 10-Q for the quarter ended June 28, 2014 to be filed with the SEC. The Company assumes no obligation to update any forward-looking statements or information, which speak as of their respective dates.