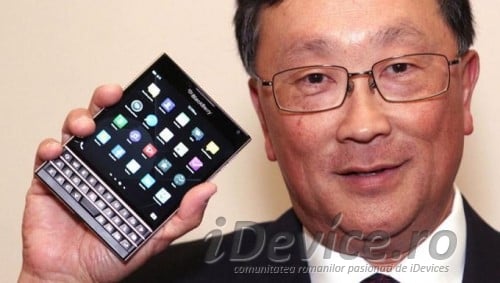 Jason Chen este actualul CEO al companiei Blackberry si sub conducerea sa canadienii au lansat pe piata un smartphone cu ecran aproape patrat care ar trebui sa convinga actualii si fostii clienti ai companiei ca un alt tip de smartphone nu trebuie cumparat. Ceea ce Jason Chen a inteles mai bine decat predecesorii sai este ca a concura cu iPhone-ul sau cu smartphone-urile Android nu este menirea companiei Blackberry, asa ca el se concentreaza pe altceva acum.
We don't expect to sell a handset to everyone and don't expect to take down the consumers who love to play games on their iPhones. But we do want to provide an experience that caters to the mobile professional – anyone who relies on their device to do their jobs… Innovations with the BlackBerry Passport focus on things that matter: advances in battery life, an innovative screen, a multi-function keyboard and seamless synchronization of contacts and documents across devices, and aggregation of all messages (email, text, social, etc.) into one actionable hub.
  CEO-ul Blackberry sustine ca nu va incerca sa atraga consumatorii carora le place sa se joace pe iPhone, ironizand subtil terminalul celor de la Apple ca nefiind potrivit pentru oamenii de afaceri sau oamenii care lucreaza in corporatii si au nevoie de securitate avansata. Mai mult decat atat, Chen sustine ca Blackberry incearca sa ofere o autonomie a bateriei grozava si diverse functii de productivitate superioare celor existente in alte smartphone-uri disponibile pe piata.
  Repozitionarea Blackberry ca un producator ce nu concureaza cu Apple, Samsung, LG sau HTC este o miscare interesanta si ar fi bine ca schimbarea sa ii readuca in top.