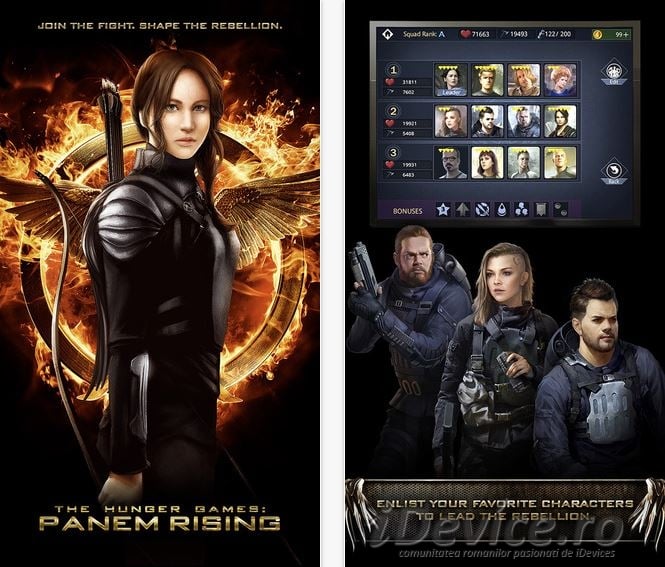 The Hunger Games: Panem Rising este un joc lansat în cursul zilelor trecute în App Store, el fiind un joc companion pentru filmul The Hunger Games: Mockingjay – Part I, Jocurile foamei: Revolta – Partea I. După cum probabil vă imaginați deja, jocul vă oferă posibilitatea de a o controla pe celebra Katniss Everdeen care pornește într-o misiune de a uni districtele Panem-ului împotriva Capitalei, rolul vostru fiind de a convinge cât mai mulți rebeli să vi se alăture cauzei pentru a lupta împotriva armatei capitalei.
Fire burns brighter in the dark… Katniss Everdeen has agreed to unify the districts of Panem against the Capitol. Help Katniss enlist other rebels in this Role Playing Card Collection Game that will immerse you in Panem's unique districts. Rise up now and take back Panem from President Snow!
  Jocul ne oferă posibilitatea de a parcurge o mare parte din povestea pe care o veți întâlni și în filmul Jocurile foamei: Revolta – Partea I, astfel că veți avea parte de o experiență de joc cât se poate de interesantă. The Hunger Games: Panem Rising este disponibil pentru DESCĂRCARE GRATUITĂ în format universal în App Store.
You are a resistance leader tasked with forming an advanced rebel team to aid Katniss Everdeen and take back Panem! Enlist your favorite characters to join your squad and liberate the districts from President Snow once and for all. Explore each district in Panem, recruit rebels, and collect resources to aid you in victory. Train your rebels to upgrade your team's skills or equip your squad with specific tools to unlock unique abilities for your journey.
Numele:
The Hunger Games: Panem Rising
---
Developer: Kabam Inc.
Universala
Categoria: Games
Descriere: *** The official The Hunger Games: Mockingjay Part 1 mobile game! ***
Fire burns brighter in the dark Katniss Everdeen has agreed to unify the districts of Panem against the Capitol. Help Katniss enlist …
Dimensiunea aplicatiei este: 55.7 Mb
---