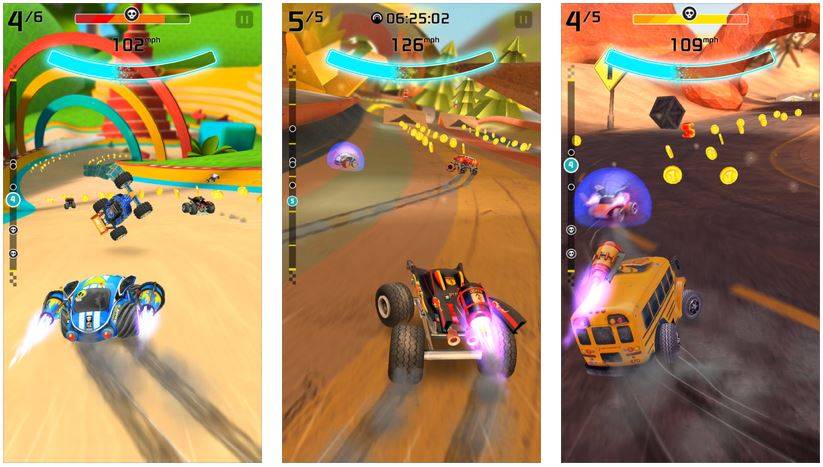 In cursul zilei de ieri compania Apple si-a actualizat promotiile disponibile in App Store, astfel ca avem listata cea mai buna aplicatie a saptamanii. Rocket Cars este aplicatia aleasa de catre compania americana pentru promovare in magazinul sau si dupa cum puteti vedea din imaginea vorbim despre un joc in care masinile sunt in centrul atentiei.
  Rocket Cars a fost dezvoltat de catre creatorii jocului Touchgrind Skate 2, deci vorbim despre un titlu complex care ne ofera posibilitatea de a controla masinii offroad in curse ce au loc in desert. Creatorii titlului au conceput pentru noi o multitudine de medii in care putem desfasura actiunea, toate locatiile avand piste extrem de interesant gandite.
RACE MONSTER TRUCKS, BUGGIES, PICKUPS and loads of other cars that will do anything to stop you in the supercharged arcade racer Rocket Cars!
UNIQUE SINGLE TOUCH CONTROLS make the car feel like an extension of yourself when playing this endless fun, pulsating and solid racer game that will surely give you hours of exhilarating game play.
PERFORM DAREDEVIL TRICKS to gain boost fuel and to avoid a wide range of opponent cars trying to prevent you from reaching the goal first.
KNOCK OUT OPPONENTS OR USE SHOCKWAVES AND MISSILES to literally blow them off the track to complete the objective of the race before they beat you to the goal.
PLAY THIS COMPETITIVE, SUPER FAST racing game including 5 free cars and another 10 cars throughout the game.
COMPETE IN 5 GAME MODES ON 50 TRACKS, all uniquely tailored where your skills and patience will be pushed to the limit.
USE UPGRADES to reach the cars' full potential. Upgrade power-ups to make sure that your opponents won't stay in your way for too long.
RACE THROUGH THE BEAUTIFUL WORLD of Rocket Cars and speed through amazing locations.
ENTERTAINING MISSIONS AND DAILY CHALLENGES let you earn extra coins and gems to maximise your chance of winning. Find more rewards along the way.
  Conform dezvoltatorilor, vom avea ocazia de a controla monster trucks, masini de teren sau camionete, masinile putand fi imbunatatite prin cumpararea de diverse boostere sau componente mai bune. Jocul contine 5 categorii de masini cu un total de 15 autovehicule, nu mai putin de 67 de niveluri de joc fiind create pentru el de catre dezvoltatori.
  Rocket Cars are disponibile 5 module de joc si 5 medii separate, motorul grafic conceput pentru joc fiind unul demn de anul 2015 si iDevice-urile noi. Intregul sistem de control este conceput special pentru terminalele mobile si este utilizabil prin atingerile ecranului, astfel ca veti ptuea dirija extrem de usor masinile.
5 car categories and 15 racing cars with individual upgrades and characteristics
67 amazing levels
5 thrilling game modes – elimination, position, time gates, time pickup and time trial
5 beautiful environments
Stunning 3D graphics and physics simulation
Easy to learn, one finger controls
Each car has specific strengths and weaknesses
  Rocket Cars este disponibil pentru DESCARCARE GRATUITA in format universal in App Store Romania.