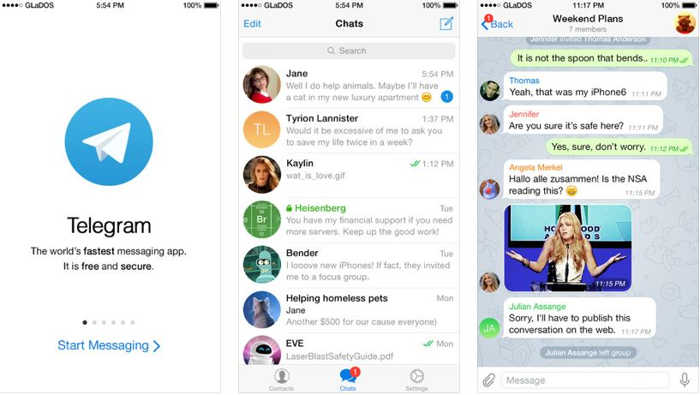 Telegram Messenger este o aplicatie alternativa WhatsApp Messenger care ne ofera o functionalitate chiar mai buna decat cea a platformei detinute de catre compania Facebook. Telegram a devenit din ce in ce mai populara in ultimii ani, insa este departe de a convinge foarte mulit posesori de iDevice-uri ca WhatsApp Messenger trebuie data uitarii, asta in ciuda multiplelor functii utile pe care le ofera. Astazi Telegram Messenger a fost actualizata, principalele noutati fiind : optiunea de a partaja fisiere care au pana la 1.5 GB, posibilitatea de a gasi mai rapid chat-uri, username-uri si mesaje, optiunea de a raspunde la mesaje de oriunde din iOS 8 printr-un banner de notificare si optiunea de a dezactiva temporar notificarile.
NEW: View and search all the documents shared in a chat – new Shared Files section (accessible in Shared Media). You can now send files of any type up to 1,5 GB in size.
NEW: Instantly find chats, usernames and messages using the multisearch box.
NEW: iOS8 interactive notifications and sharing support.
NEW: Temporarily mute notifications (1 hour, 8 hours, 2 days) from chat info and interactive notifications (8 hours).
ADDED: Month sections in Shared Media.
ADDED: 'Block' action in profile pages.
ADDED: Tip explaining how to send documents for new users.
ADDED: Your personal telegram.me/… link in the username section of Settings.
FIXED: Photos could get stuck while scrolling (iOS 7)
FIXED: Some broken custom WebP images could cause Telegram to crash
FIXED: Third-party Telegram apps could cause Telegram to crash in Secret Chats
FIXED: Voice messages could get broken on recording
  Separat, Telegram Messenger contine rezolvari de probleme si alte cateva noutati mai putin importante pe care le puteti descoperi in lista de schimbari vizibila mai sus. Aplicatia Telegram Messenger este disponibila pentru DESCARCARE GRATUITA din App Store.