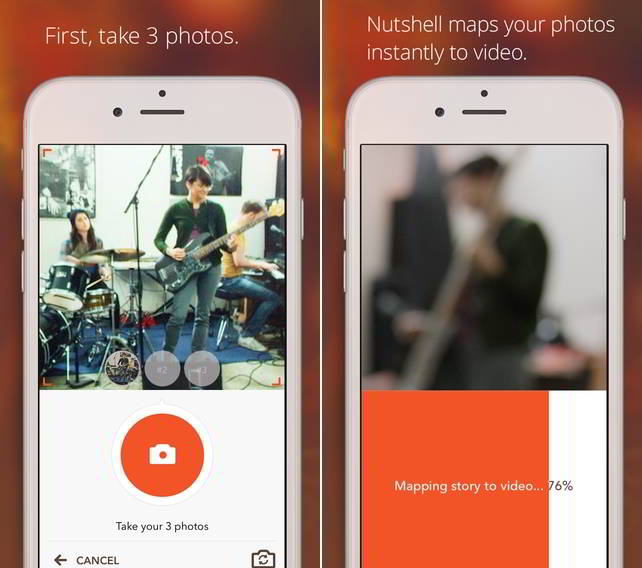 Nutshell Camera este o aplicatie disponibila de ceva vreme in App Store-ul companiei Apple, ea fiind creata special pentru cei carora le place sa creeze animatii comice folosindu-si propriile terminale. Apple promoveaza aceasta aplicatie in prima pagina a App Store-ului sau si o recomanda utilizatorilor din lumea intreaga, ea avand o functionalitate interesanta. Folosind Nutshell Camera putem inregistra poze cu propriile iDevice-uri, putem adauga scris peste ele, putem adauga grafica diversa si le putem combina in animatii comice.
The new way to share life's little moments, in a nutshell.
Snap three pictures. Add some captions. Choose your graphics. And let Nutshell Camera turn it all into a short cinematic story you can share with family and friends. Combining the simplicity of photographs, the spatial context of video and the fun of animated graphics, Nutshell Camera uses our new storymapping technology to turn any moment into a custom-made visual vignette that's shared easily and instantly.
  Nutshell Camera ste gandita ca o metoda simpla prin care utilizatorii pot crea rapid animatii extrem de interesante folosindu-si propriile poze, ele putand fi partajate rapid oriunde si oricand. Aplicatia contine o librarie extinsa de animatii care pot fi utilizate pentru a crea scurte "povesti" cinematice, totul folosind o interfata intuitiva.
Library of free animated graphics that you can use to create short cinematic stories
Instant sharing to Instagram, Facebook and Twitter
Send nutshells directly to friends via Email, Text messages, and WhatsApp
Full camera support for iOS 8.0 and above
  Nutshell Camera este disponibila pentru DESCARCARE GRATUITA din App Store.