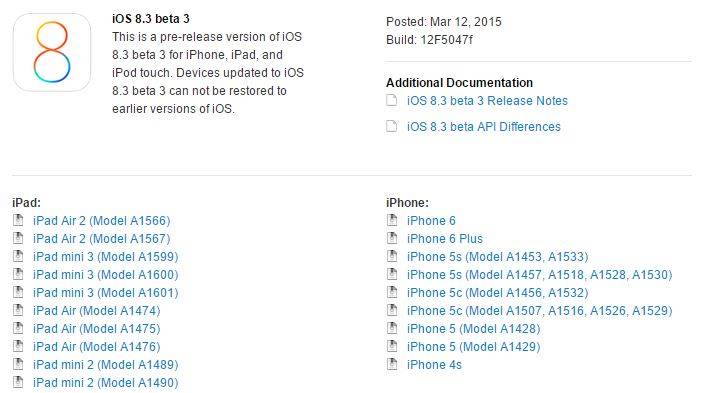 iOS 8.3 beta 3 a fost lansat in aceasta seara de catre compania Apple si v-am spus deja ca actualizarea aduce pentru noi optiuni pentru filtrarea mesajelor din aplicatia Mesaje, Messages, plus aplicatia Watch care permite controlarea Apple Watch. Separat de acestea, compania Apple a publicat o lista de schimbari cu toate modificarile implementate in codul sistemului sau de operare, majoritatea acestor noutati nefiind vizibile pentru utilizatorii de rand.
  Mai jos aveti intreaga lista de noutati iOS 8.3 beta 3.
iOS SDK Release Notes for iOS 8.3 Beta 3

Introduction

iOS SDK 8.3 provides support for developing iOS apps. The SDK is packaged with a complete set of tools, compilers, and frameworks for creating apps for iOS and OS X. The tools include the Xcode IDE and the Instruments analysis tool, among many others.

With this software, you can develop apps for iPhone, iPad, or iPod touch running iOS 8. It now includes WatchKit, a framework for developing Apple Watch apps. You can test your apps using the included iOS Simulator.

iOS SDK 8.3 requires a Mac computer running OS X v10.9.4 (Mavericks) or later.

This version of iOS is intended for installation only on devices registered with the Apple Developer Program. Attempting to install this version of iOS in an unauthorized manner could put your device in an unusable state.

For more information and additional support resources, visit http://developer.apple.com/programs/ios/.
Notes and Known Issues

The following issues relate to using iOS SDK 8.3 to develop code.