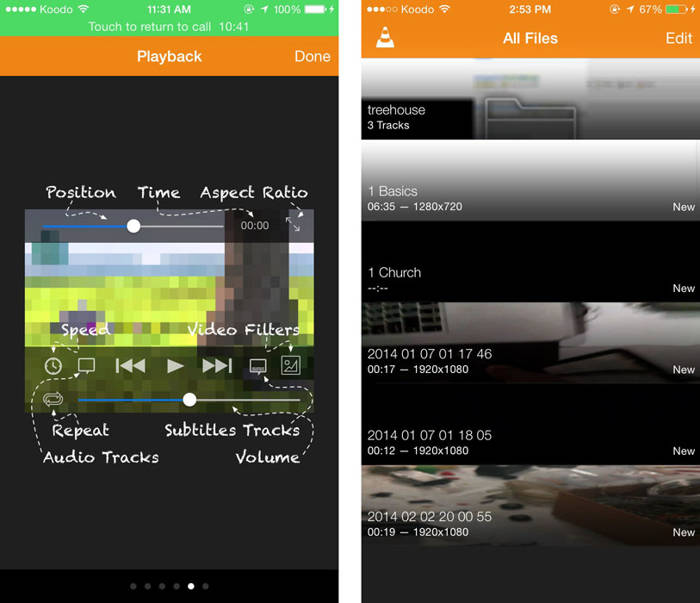 VLC pentru iOS este una dintre cele mai populare aplicatii pentru redarea de continut multimedia in iPhone, iPad si iPod Touch-uri, iar in cursul noptii trecute ea a fost actualizata cu o multitudine de noutati de care noi putem beneficia imediat. Cei de la VLC au implementat in aplicatie: suport pentru iCloud Drive, box.com si OneDrive; un buton care blocheaza ecranul de playback in orice orientare; un egalizator in 10 benzi; un sistem de partajare a librariei multimedia intre iDevice-uri pe o retea locala si multe, multe altele.
Added support for iCloud Drive
Added support for box.com
Added support for OneDrive
Added a lock button to the playback view, supporting both orientation and controls
Added 10-band equalizer
Added sharing of the media library between multiple iOS devices on the local network
Added support for chapters and titles to the playback dialog
Cleaned-up playback view appearance with more features and less clutter
Added enhanced media information to the library view
Added notifications about missing storage space when syncing media
Added timer to automatically stop playback
Improved WiFi sharing reliability with web browsers on Linux
Improved Plex support with optional direct connections if detection fails x-callback-url: added support for the x-error parameter
A few minor UI improvements
New translations to Portuguese (Portugal), Portuguese (Brazil), Khmer, Faroese, Belarusian, Serbian (Latin Alphabet), Tamil and Afrikaans
  Aplicatia VLC pentru iOS este disponibila pentru DESCARCARE GRATUITA in format universal din App Store.