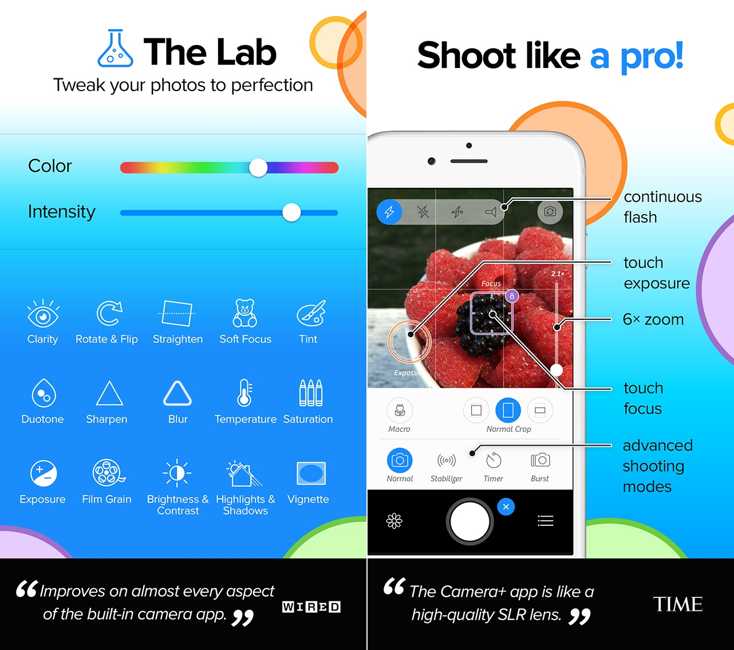 Camera+ este una dintre cele mai bune aplicatii pentru inregistrarea de poze folosindu-ne folosind un iPhone, iPad sau iPod Touch, ea fiind actualizata recent cu o multitudine de optiuni pentru acest task. Folosesc aplicatia Camera+ aproape de fiecare data cand inregistrez o poza si o utilizez cu placere de ani de zile, ea oferind optiuni de inregistrare net superioare celor prezente in aplicatia nativa Camera a sistemului de operare iOS.
WHETHER YOU'RE A SEASONED PHOTOGRAPHER OR SOMEONE WHO'S BARELY TOUCHED A CAMERA, CAMERA+ WILL MAKE YOU LOVE TAKING PHOTOS. SET EXPOSURE SEPARATELY FROM FOCUS. YOU CAN NOW EASILY CONTROL HOW LIGHT OR DARK YOUR SHOTS COME OUT. USE THE STABILIZER TO STEADY YOUR IPHONE AND GET THE SHARPEST PHOTOS YOU CAN. THERE ARE COUNTLESS USES FOR THE TIMER INCLUDING TAKING THE HIGHEST-QUAILTY SELF-PORTRAITS. CAPTURE ALL THE ACTION BY USING BURST TO TAKE RAPID STREAMS OF SHOTS.
  Camera+ este apreciata de milioane de oameni din lumea intreaga si a inregistrat la fel de multe descarcari, ea oferind optiuni avansate de controlare a modului in care inregistram poze, dar si optiuni de editare a acestora dupa inregistrare. Pentru ca este atat de populara, aplicatia Cmaera+ este disponibila pentru DESCARCARE in momentul de fata LA PRET REDUS in App Store si daca inca nu ati incercat-o, va recomand sa o faceti pentru ca nici macar nu stiti ce pierdeti.