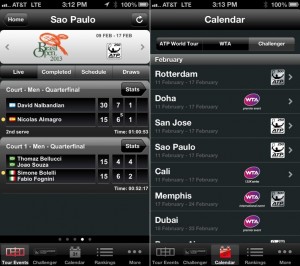 ATP tenis LIVE poate fi urmarit pe terminalele iPhone multumita unei aplicatii disponibile de ceva vreme in App Store, ea oferindu-le utilizatorilor inclusiv posibilitatea de a urmari turneele WTA in timp real pentru a fi la curent cu scorurile tuturor meciurilor. Avand in vedere ca in aceasta perioada se desfasoara atat de multe turnee ATP sau WTA, atunci probabil exista printre voi suficiente persoane interesate sa descopere aplicatii care sa ofere posibilitatea de a urmari meciurile in timp real.
Cand vorbesc despre ATP si WTA si va spun ca puteti urmari meciurile in timp real, ma refer la faptul ca puteti vizualiza scorurile meciurilor in timp real, deoarece numai in pagina de TV LIVE iPhone si iPad puteti urmari canalele TV care transmit meciurile. Conform dezvoltatorilor, aplicatia ATP/WTA LIVE, disponibila in App Store, prezinta nu doar scorurile meciurilor, ci si statisticile acestora, totul in timp real.
ATP/WTA Live is the official Live Scoring App from the ATP World Tour and WTA. Follow your favourite professional tennis players and tournaments in real-time throughout the season, including ATP Challenger Tour events.
Separat cei interesati pot afla informatii despre listele de meciuri ATP care urmeaza sa se desfasoare, ordinea in care se desfasoara acestea, clasamentele mondiale ATP si WTA, biografii ale jucatorilor si multe, multe altele.
Live Scores
Live Match Statistics
Completed Matches
Order of Play
Draws
Rankings
Tournament Calendar
Player Bios & Head to Head Records
15+ Languages
Share with Friends
Daca sunteti fani ATP sau WTA, atunci aplicatia ATP/WTA Live, disponibila pentru DESCARCARE GRATUITA, s-ar putea dovedi a fi perfecta pentru voi, insa desigur ca daca aveti si alte recomandari le puteti mentiona.