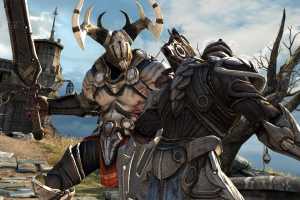 Infinity Blade, primul joc pentru iOS dezvoltat in baza motorului grafic Ureal Engine, este incepand de astazi disponibil gratuit pentru download, compania sa dezvoltatoare oferindu-l intr-o promitie ce este valabila timp de o saptamana de zile.
Jocul a adus in App Store un gameplay complet diferit de ceea ofereau pana atunci alte titluri pentru iDevice-urile sale si a fost extrem de apreciat de catre utilizatori, acest lucru motivand compania Chair sa lanseze inca doua titluri care ii continua povestea epica.
THE FIRST MOBILE GAME POWERED BY EPIC'S CUTTING-EDGE UNREAL ENGINE 3 TECHNOLOGY, INFINITY BLADE TAKES HANDHELD GAMING TO NEW HEIGHTS WITH GORGEOUS VISUALS, ADRENALINE-FUELED BATTLES AND ADVANCED CHARACTER PROGRESSION IN A FULLY 3D CASTLE REALM. UNIVERSAL APP – PLAY INFINITY BLADE ON IPHONE 3GS, IPHONE 4, IPHONE 4S, IPHONE 5, IPAD, IPAD 2, IPAD 3RD & 4TH GENERATION, IPAD MINI, IPOD TOUCH 3 (16 GB AND ABOVE), OR IPOD TOUCH 4 FOR A SINGLE LOW PRICE. FOR UNTOLD AGES, THE GOD KING HAS RULED WITH AN IRON FIST – HIS POWER IS INCALCULABLE; HIS FOLLOWERS, LEGION. NOW YOU MUST JOURNEY TO THE DARK CITADEL TO BATTLE HIS TITANS, ONE BY ONE, UNTIL YOU FACE THE TYRANT HIMSELF. AS IT HAS BEEN FOR ALL IN YOUR BLOODLINE, THIS IS YOUR BIRTHRIGHT – TO FREE YOUR PEOPLE FROM AN ENDLESS LEGACY OF DARKNESS. THE IMMORTAL CAN BE VANQUISHED – BUT ONLY IF HEART, MIND, AND STEEL ARE ONE.

SPECTACULAR 3D CHARACTERS AND ENVIRONMENTS POWERED BY THE AWARD-WINNING UNREAL ENGINE 3 BRING TO LIFE THE STORY OF A LONE KNIGHT'S PURSUIT TO SAVE CIVILIZATION.
  Titlul a fost actualizat de-a lungul anilor pentru a oferi o experienta de joc, cat se poate de placita si are grafica retina pentru recentele iDevice-uri, asa ca ar trebui sa aveti o experienta de joc, cat se poate de buna.
Infinity Blade este disponibil in format universal in App Store.

Nume:
Infinity Blade
---
Developer: Chair Entertainme…
Universala
Categoria: Games
Descriere: Celebrate FREEdom and download the original Infinity Blade blockbuster FREE this weekend!
Winner of the 2011 Apple Design Award, and more than 20 Game of the Year & Top App awards! Tons of NEW FREE CONTENT available now! See below for more details.
F…
Dimensiunea aplicatiei este: 595.2 Mb
---