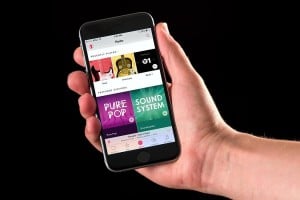 Apple a inceput sa testeze versiunea beta a Apple Music pentru Android, compania americana contractand o alta companie din SUA pentru a le oferi unor utilizatori de terminale Android posibilitatea de a testa noul serviciu inainte ca el sa fie lansat oficial pentru Android.
Betabound este compania care a incheiat un acord exclusiv cu Apple pentru a oferi Apple Music spre testare in versiune beta tuturor celor care ruleaza sistemul de operare Android si sunt interesati sa incerce noul serviciu de streaming audio al companiei Apple.
Cei de la Betabound au trimis astazi email-uri catre utilizatorii ce ar putea fi interesati sa incerce Apple Music, ei urmand a fi directionati spre o pagina din care vor putea descarca aplicatia Apple Music special creata de catre compania Apple pentru acest test.
We're excited to invite you to come test Apple Music for Android. If you're a current Android user that would like to join the beta for the new music streaming service, you won't want to miss this opportunity. To learn more and apply, click the link below. Best of luck! The Betabound team.
Dupa accesarea unui link din email, utilizatorii trebuie sa raspunda la unele intrebari care au legatura cu muzica si preferintele muzicale, mai apoi avand optiunea de a se inscrie pentru a face parte din programul beta de testare a Apple Music pentru Android.
De aici incolo totul depinde de compania Apple si intentiile sale de a lansa efectiv programul, iar dupa ce el va fi deschis celor interesati vom afla mai multe detalii despre ceea ce ofera.