Din moment ce Apple ne-a onorat cu posibilitatea de a instala tastaturi terte incepand cu iOS 8, dezvoltatorii au profitat de posibilitatea de a oferi utilizatorilor acces rapid la emoticonuri si impreuna cu GIF-uri. Astfel ca, am strans cateva din cele mai folosite tastaturi emoji si GIF pentru cei care fac mai mult decat sa trimita doar un text în mesajele lor.
1.Bitmoji Keyboard – Your Avatar Emoji – disponibila GRATUIT
Stickerele realizate de catre dezvoltatori sunt grozave dar stiti ce e mai grozav la aceasta aplicatie?Stickerele pe care le puteti realiza chiar voi. Va puteti crea propriile "autocolante".
Cu ajutorul aplicatiei Bitmoji, puteti crea propriul avatar de desene animate prin ajustarea multiplelor caracteristici si accesorii. Il puteti deasemenea folosi in mesaje sau distribui prin e-mail, si social media.
Description
Bitmoji is your own personal emoji – that you can use right from your keyboard!
• Create an expressive cartoon avatar
• Choose from a growing library of moods and stickers – featuring YOU!
• Use it in iMessage, WhatsApp and more
In loc sa deschideti o aplicatie GIF separat, in cautare fiind de GIF-uri, si copierea si partajarea lor in mesaje sau orice aplicatie ce accepta GIF-uri, puteti folosi aceasta gastatura GIF Keyboard, tastatura terta care inlocuieste această optiune.
Features:
* Always send the perfect GIF and video responses straight from your keyboard! And it plays inline on iMessage.
* Browse through categories like reactions, music, trending and more.
* Search millions of GIFs and videos for the perfect moment. You can also tap the emoji icon in the menu to search by your favorite emoji!
* See a GIF you like while browsing on your phone? Save it from Safari with one tap. That means no saving to your camera roll and it's instantly available from your keyboard.
* Customize your keyboard with the GIFs you love! Just double tap to favorite it.
* Create Collections of your favorite GIFs
* Works with your favorite messengers and social networks including iMessage, Facebook Messenger, WhatsApp, Twitter, Facebook and Email. Just long-press on a GIF to pull up options to share the GIF, Video, link, or save to camera roll
Kanvas Tastatura este o solutie grozava care elimina necesitatea de a utiliza alte solutii similare disponibile in iOS, ea oferind o tastatura inligenta cu optiunea de a introduce stickere sau caractere emoji personalizate, cu functii ce permit scrierea de mana a mesajelor, marcarea pozelor cu texte sau trimiterea de poze animate in format GIF.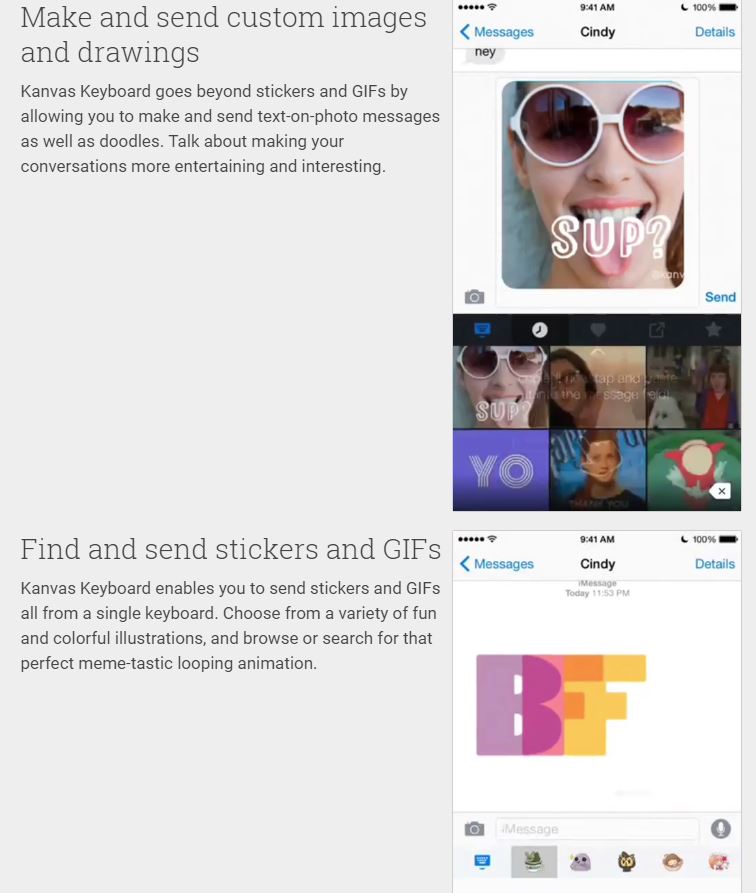 Key Features
Create Custom Messages!
– Choose from dozens of short phrases such as yo, okay, lol and yeah to send quick replies to friends & family!
– Easily write a custom message on photos or colored backgrounds with over 50 awesome fonts and dozens of your favorite emojis!
Unlimited Animated Gifs!
– The largest collection of GIFs is on our GIF keyboard
– Use trending tags to quickly find popular categories of gifs
– Choose from millions of animated gifs to send to your friends as messages
– Search from the best gif library on the web with new content added daily
Animated Gif Stickers!
– Choose from 1000s of animated Gif stickers to spruce up your message
Send Colorful Drawings!
-Use 7 different paintbrushes and a ton of colors to make cute drawings on colored backgrounds and photos.
Send Sticker Messages!
– Express yourself by choosing from hundreds of stickers designed by artists from around the world.
Simple Text Messages!
– We built a custom keyboard just in case you want to send one of those ancient normal text messages!
Save & Share from Camera Roll!
– Tap to save any gif, sticker or custom message to your camera roll
– If you have gifs already on your phone easily send them from Kanvas Keyboard
Favorites & Recents!
– Favorite gifs you love or visit your recent tab to reuse your favorite messages
Prin aceasta tastatura aveti stickere , emoji , Apple emoji toate intr-un singur loc.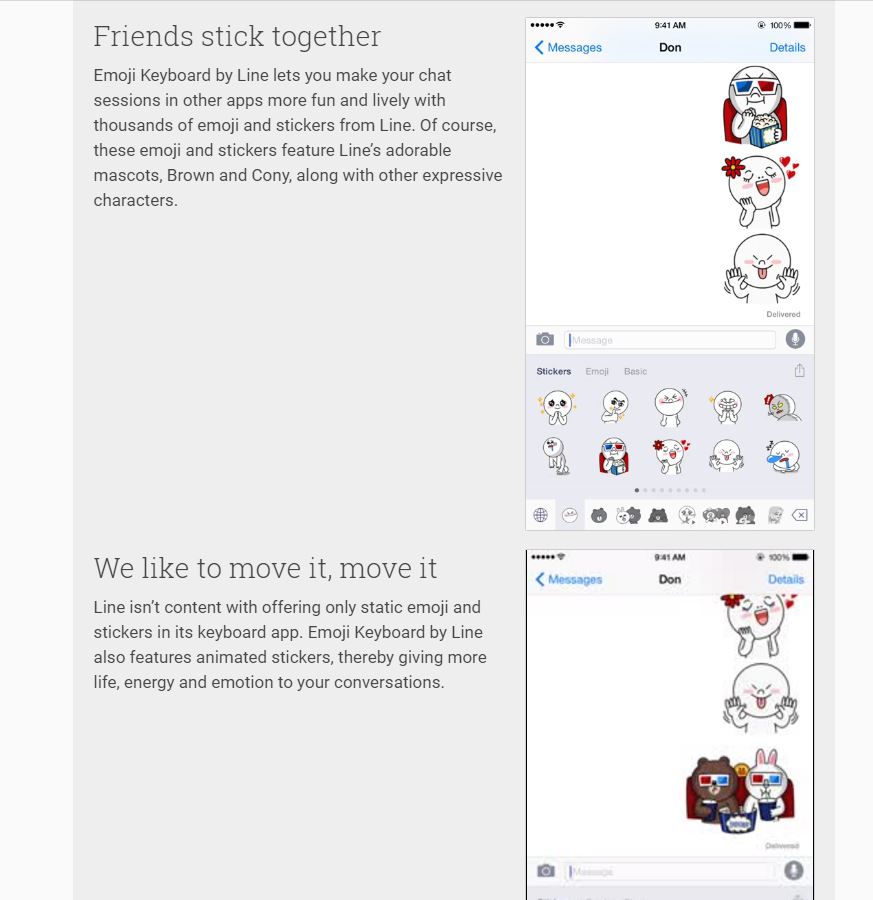 [Emoji LINE Keyboard Highlights]
◆ New and Easy
Emoji LINE is jam-packed with new, fun, over 3,000 Stickers & Emoji! Simply add it to your default keyboard to utilize the most convenient and easiest keyboard app.
◆ Animated Stickers
Stop with the basic and boring texts! Liven up your conversation with the most fun and vibrant animated stickers that will turn any boring chat into an expressive wonderland.
◆ Unique Character Stickers
Emoji LINE exemplifies hundreds of vivacious, popular characters on LINE. With diverse characters and varied expressions, communicate and express yourself.
◆ Thousands of New Emoji
With thousands of new emoji, easily convey all you couldn't before in any situation! Let LINE's literal universe of Stickers & Emoji illustrate every emotion.
Puteti adauga propriile GIF-uri din biblioteca foto si sa le organizati pentru un acces usor daca doriti sa le folositi mai tarziu. In acest fel , veti avea intotdeauna pregatit cel mai bun GIF.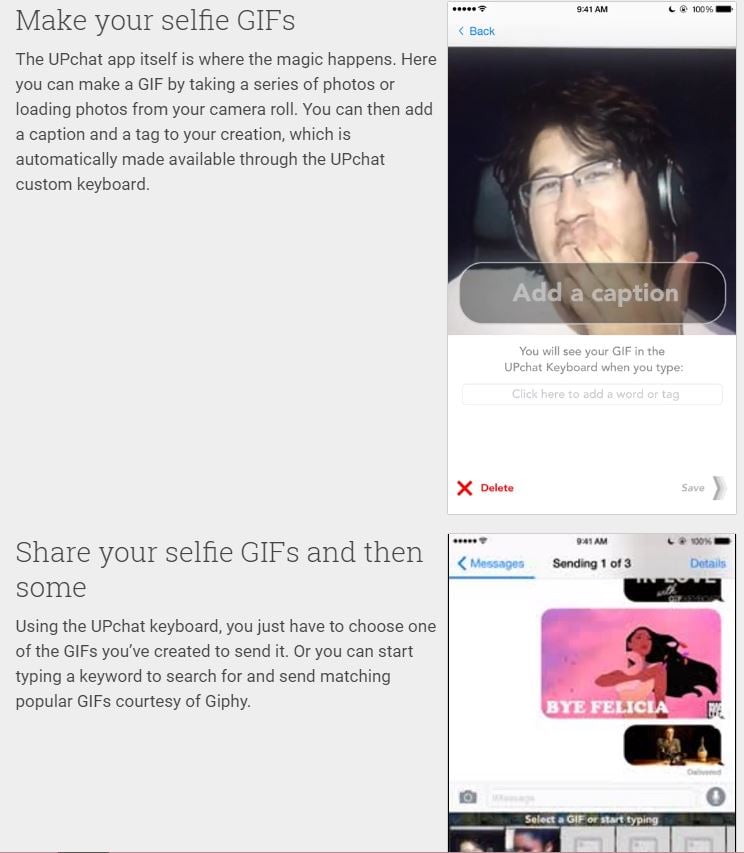 With our new custom keyboard you can now easily create and send GIFs while texting or emailing.

Want to send popular GIFs and images alongside the ones you create? The UPchat keyboard can also search for popular GIFs and images with every word you type.