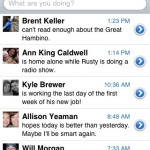 Facebook, unul dintre cele mai mari site-uri de social networking are de ceva vreme o aplicatie gratuita pentru iPhone/iPod Touch prin intermediul careia utilizatorii isi pot controla foarte simplu si usor contul. Desi este un gigant in lumea social-networking-ului, Facebook, nu a reusit sa impresioneze echipa celor de la Apple care se ocupa cu acceptarea aplicatiilor in AppStore, lucru ce a cauzat un scandal monstru cu cateva luni in urma, scandal care a avut drept rezultat demisia developer-ului principal care se ocupa de aplicatie, moment in care multi se intrebau daca va exista un viitor pentru aceasta si cum va arata acesta.
In ciuda previziunilor sumbre ale multora, astazi a fost anuntat disponibilitatea in AppStore a versiunii 3.1 a celebrei aplicatii, un update care nu aduce prea multe, doar un lucru esential care a fost cerut de majoritatea utilizatorilor, anume PUSH notifications. Iata changelog-ul :
Added the push notification to stay up to date on everything that happens to us and our friends;
Adding a very useful feature that allows you to sync the photos of our contacts, Facebook and automatically inserts the contacts in our address book, replacing, if necessary, those already present.
Scurt si cuprinzator dar totusi un pas inainte pentru echipa care se ocupa de aplicatie, se pare ca plecarea omului care a creeat-o a lasat o gaura destul de adanca.
Aplicatia poate fi downloadata gratuit din orice AppStore.