Cupa Mondiala la fotbal din Africa de Sud va incepe astazi la ora 17:00 pe TVR 1 cu primul meci al competitiei dintre Africa de Sud si Mexic. Stiu ca printre posesorii de iPhone se afla foarte multi microbisti asa ca mai jos aveti o lista cu 6 dintre cele mai bune aplicatii gratuite destinate Cupei Mondiale :
1. ESPN 2010 Fifa World Cup – disponibila doar in US AppStore.
This summer 32 countries from around the globe will compete for the world's most prestigious trophy – the FIFA World Cup. For the first time ever the Cup will be lifted in Africa and ESPN will be there to bring you exclusive coverage of this historic event to your iPhone or iPod touch.
he ESPN 2010 FIFA World Cup app features:
* Live scores
* Tournament stats and tables, including bracket view
* Exclusive US and global news and analysis from ESPN and ESPNsoccernet
* Full tournament schedule
* Extensive profiles of all 32 teams and the world's top footballers
* Free ESPN original video vignettes profiling all 32 teams
* Group news and profiles
* Personalization – select your teams and show your support!
* Stream national anthems for all 32 World Cup teams!
* World Cup tournament history dating back to 1930
* Profiles of all 10 host venues
* Fantasy Bracket Predictor – put your knowledge to the test and choose next year's World Cup champions
* Map modes – find every team on the globe and to explore all 10 South African venues
* Soccer Power Index: Check out exclusive rankings of the top 100 FIFA teams. Track the biggest movers of the month, compare against FIFA rankings and see how your favorite team measures up
* Share favorite teams, news articles, and comments via Facebook, Twitter, and Email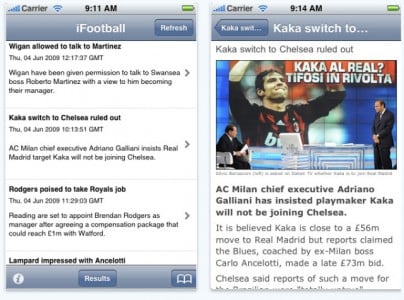 iFootball brings the latest news about World Football / Soccer from BBC Sports, Yahoo! Euro Sports and ESPN right to your iPhone/iPod Touch instantly. Carry around iFootball in your iPhone or iPod Touch like you carry a newspaper. Information is updated in Real time – no waiting for morning newspapers.
– Offers TRUE OFFLINE browsing experience: You can read all the news even when there is no EDGE/3G or WiFi. Even when you are in a subway, you will have access to news articles!
– CHOOSE your information from top Football websites.
– SHARING: email links to your friends about your favorites articles.
– Get the LATEST news, player updates and team standing.
– BOOKMARK – your favorite news articles
Feel the excitement of the games with AP's 2010 World Cup Coverage! Follow your team throughout South Africa and enjoy a feature-rich multimedia experience with live game scores, schedules, standings, and more. Additional features include star player profiles, photos and videos, venue information and interactive voting to pick your favorites. Available in English, French, Spanish, and Portuguese, AP 2010 World Cup Coverage is the most trusted source for the World Cup action!
Known issue: App may hang if exiting and relaunching within 3 seconds. Relaunching after that should work. This will be fixed in an upcoming build.
4. World Cup Factoids and History
With interesting factoids and a history of the world cup to the present day, find out the answers to all these questions and more in this FREE app! Also contains links to world cup news websites that are EASY to read on your iPhone, helping you keep up-to-date with all the world cup news!- Which country is the only country to have qualified for every world cup tournament?
– How many countries have won the world cup out of the 76 to have competed?
– Which defending champions have won a second time? And what happened when they tried for a third?
– When did your country first compete in the world cup? And which countries are new this year?
– The first ever international football game was played in Glasgow, but what teams played, and what was the result?
The definitive offline guide for the next Tournament.
When matches are played? Who plays the games? Where are this played? What's the schedule for the matches? All this information is available on the application.
iSA2010Guide is definitely the application that everyone wants to have.
* Languages: English / Spanish
* Complete schedule of all matches of the next tournament, organized by day, stage, city.
* Stadium: characteristics and matches being played and data from the host city.
* Host Cities: data, stadiums and matches being played in each city
* Groups: Composition of the groups, matches and information about each team.
* Teams: name of players organized by position.
* Online information from matches and groups statistics via internet connection.
6. Fox Soccer
Description
Fox Soccer Channel's Ticket to South Africa presented by Audi is your one-stop guide to the world's greatest stage.
Follow all 32 countries with up to the minute scores, news, standings, photos, videos, schedules, and city information.
Ticket to South Africa Features:
* 32 country profiles featuring news, rosters, statistics and more
* Feature stories and game analysis
* Full Tournament schedule and calendar by group and by date
* Photo Galleries featuring WAGS, wacky hairstyles, key players, fan photos and more
* Match results and group standings
* Live Scorestrip with tournament match-ups, in-game updates, and final results
* Live match stats and play by play
* City guide and stadium overviews
* Share news stories through email and Facebook
* History and facts reviewing the last 18 tournaments
* My Countries feature to add your favorite nation to your homescreen
* Player profiles featuring full rosters for all 32 countries