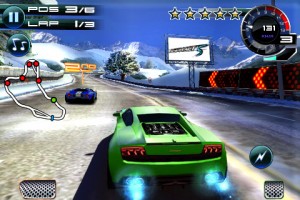 Asphalt 1.2.6 este disponibil incepand de astazi in AppStore, noua versiune aducand suport pentru giroscopul din iPhone 4, retina display-ul din iPhone 4, dar si suport pentru noul iOS 4.0. Aplicatia are integrata functia multitasking si fast app switching, astfel ca de acum puteti reveni oricand la aplicatie si continua jocul chiar daca ati deschis alta aplicatie intre timp.
Sharper physics allowing for smoother driving thanks to the gyroscope;
Crisp, gorgeous high-resolution graphics to take full advantage of the iPhone 4 Retina Display;
Support for iOS 4 multitasking on compatible devices: Switch between your favorite apps instantly.
Get in, start up and punch it in the fastest dream cars ever created by some of the most prestigious manufacturers in the world. Everything you've ever dreamed of doing behind the wheel is here on your iPhone/iPod Touch. Stop dreaming and get in!
Asphalt 5 poate fi cumparata din Ro AppStore pentru 3.99€ de aici.
[youtube]http://www.youtube.com/watch?v=-Mc43UaMaAA[/youtube]