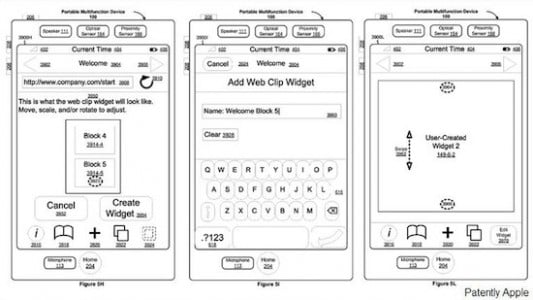 Vorbim despre un brevet de inventie care probabil nu va ajunge sa fie vreodata implementat in iOS pentru iDevices, insa daca s-ar decide Apple sa o faca, oare cat ar schimba lucrurile? In brevetul inregistrat de Apple se descrie o metoda de a implementa web clip widget-uri in iOS. Pentru cei care nu stiu, web clip widget-urile fac parte dintr-o tehnologie prezentata de Apple la WWDC 2006 care permite utilzatorilor sa salveze o parte dintr-un website in Dasboard-ul din Mac OS X ca widget si sa primeasca update-uri live de la acea pagina. De fiecare data cand site-ul respectiv era actualizat, utilizatorul vedea in dashboard actualizarea si accesa site-ul.
Apple has been granted a patent for Web Clip Widgets on iOS Devices. The original idea for Web Clip creation for the Mac was first introduced at Apple's WWDC in August 2006. With Web Clip, you're able to make a portion of your favorite webpage into a Web Clip widget and add it to Dashboard – a built in feature of OS X. When the webpage's content is updated, your Web Clip widget is also updated. When you click a Web Clip widget in Dashboard, the webpage you used to create it opens. Today's granted patent is about using the Web Clip feature to create widgets on iOS devices. The first iOS device to receive this feature was the iPhone.
Apple descrie in acest brevet o metoda de a implementa widget-urile si in Safari pentru iOS insa deocamdata in iOS nu exista nici macar un dashboard. O asemenea functie ar fi mai mult decat utila pentru posesorii de iDevices insa e greu de crezut ca vom vedea asa ceva vreodata. Eu unul as fi interesat sa pot folosi web clip-uri intr-un asemenea mod pe tableta iPad si chiar pe iPhone.