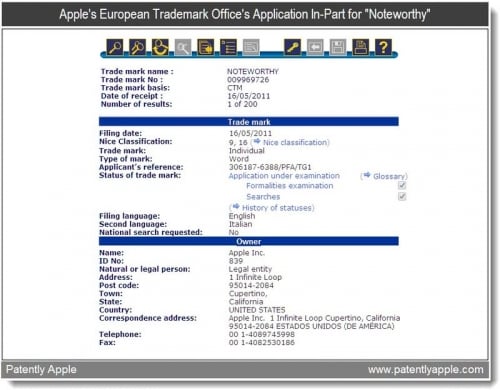 Cu ce se mai ocupa Apple in ultima vreme? Ei bine inregistreaza brevete de inventie insa acesta prezentat acum a fost inregistrat in Europa si se refera la o aplicatie numita Noteworthy care ne-ar permite sa folosim un iPhone pe post de scanner. Se pare ca Apple a brevetat o metoda care ar folosi un senzor optic implementat in LCD-ul iPhone-ului pentru a scana documente direct in telefon. E o tehnologie generic denumita OCR si in AppStore exista deja aplicatii care fac acest lucru folosindu-se de camerele dispozitivelor noastre.
It appears that Apple may want to drum up a little more mystery and excitement going into this year's WWDC (World Wide Developer Conference) on June 6, 2011. Today, the European Trademark Office has revealed Apple's latest "Noteworthy" trademark filing. On the surface it appears to be a new iOS app – that may relate to providing OCR capabilities. If correct, it would support a February 2011 patent describing a future optical in-LCD sensing panel for the iOS devices: In other words – an App that could allow your iPhone to double as a scanner.
Noua aplicatie din iOS ar urma sa scaneze documentele in telefon si ar permite incarcarea lor pe internet folosind serviciul Google Docs. Tehnologia OCR poate fi folosita in majoritatea smartphone-urilor prezente pe piata deci Apple ar trebui sa aduca modificari substantiale serviciului pentru a il face interesant. Eu unul as gasi foarte utila aceasta functie si sper sa o "reinventeze" Apple in iPhone 5.