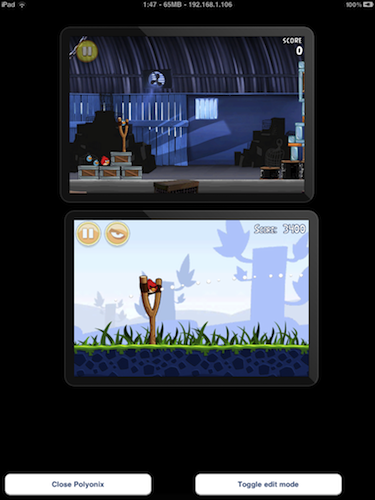 Ma gandeam de foarte mult timp daca un asemenea tweak ar putea fi vreodata dezvoltat si iata ca Aaron Nash ne demonstreaza ca orice este posibil pe platforma iOS. In imaginea de mai sus avem demonstrat faptul ca 2 aplicatii pot rula una langa alta in acelasi ecran pe o tableta iPad. Aaron Nash a reusit sa dezvolte un tweak care ne permite sa rulam 2/3/4 aplicatii in acelasi ecran al terminalului nostru, toate functionale insa pana intr-un anumit punct. El a reusit sa ruleze cu succes 3 aplicatii in acelasi timp in acelasi ecran, a jucat 3 versiuni ale Angry Birds in acelasi timp insa cand a ajuns la a 4- a aplicatie tweak-ul a inchis totul din cauza unei erori.
Yes, and it actually works! I've wasted plenty of time already playing 2 games of Angry Birds at the same time. (I actually was playing 3 for a while, but it crashed when I tried to add a 4th). There are a few bugs, such as audio not working, and accelerometer events not getting sent to applications; it may take a while to sort these out. The bottom right button turns on "edit mode" which allows you to rearrange applications, and rotate them (Angry Birds normally runs in landscape, here they're turned).
Tweak-ul este special gandit pentru a permite rearanjrarea ferestrelor aplicatiilor deschise si din cate observ dezvoltatorul se foloseste de modul de vizionare a aplicatiilor pentru iPhone in acest tweak. Din pacate tweak-ul nu recunoaste accelerometrul si aplicatiile nu au sunet insa ideea este excelenta si daca el a reusit sa o prezinte atunci sigur se va gasi cineva care sa finalizeze conceptul. Ce parere aveti, v-ar fi util un asemenea tweak?