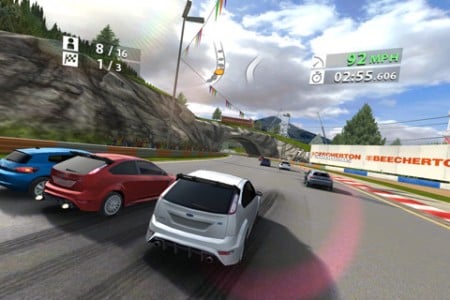 Astazi cei de la Firemint au lansat in App Store versiunea 1.11 a jocului Real Racing 2, unul dintre cele mai complete racere disponibile in magazinul de aplicatii a celor de la Apple. Versiunea 1.11 a aplicatie aduce imbunatatiri pentru modul in care functioneaza jocul, aduce anti-aliasing pentru iPhone 3GS si iPod Touch 3G plus multe multe bug fix-uri. Cei de la Firemint au introdus si cateva masini noi plus posibilitatea de a le achizitiona prin intermediul in-app purchase-urilor.
Iata intregul changelog pentru Real Racing 1.11 :
*NEW!* 7 Career events including:
H2NRG Cup
Nissan GT-R H2H
IEJ Grand Elimination
Telkodata Desert Enduro
Zannoil V6 Sprint Series
IEJ Volkswagen Scirocco R Time Trial
IEJ Nissan Upstart Mola Z Time Trial
Significant multiplayer improvements:
Preventative measures to counteract wall-riding.
Fairer track selection and new track voting system.
Visual indicators for drivers with high latency.
Reduced teleporting and other artifacts caused by high latency.
New method to minimize the impact of malicious and extremely high latency drivers.
Leaderboards now display a graph of personal best results. Result times will no longer appear as "0:00:00".
Visual improvements to body roll and wheel simulation.
Anti-aliasing support for 3rd generation devices.
Players can now buy cars and upgrades via In-App Purchase.
Clock precision has been enhanced and Time Trial results achieved offline are now uploaded the next time you are online.
Purchased car upgrades can now be disabled. This will alter the vehicle's P-rating.
Players may trade their only car for another, provided they have the cash to make up the difference.
Skid sound effects now increase gradually.
When starting a new game, only the Volkswagen GTI and Volvo C30 can be purchased.
Additional in-game notification of new content, updates and features.
The replay camera now moves more naturally when following vehicles.
Various performance optimizations, including fixes to address intermittent crashes.
Real Racing 2 este disponibila in App Store in 2 versiuni, una pentru iPhone care costa 5.49€ si una pentru iPad care costa 7.99€.
Nume:
Real Racing 2
---
Developer: Firemint Pty Ltd
Categoria: Games
Descriere: Get ready for the most exhilarating handheld racing experience! Take control of 30 officially licensed cars, each with unique performance characteristics. Feel the thrill of authentic pack racing action in an incredible 16-car grid the first on iOS!
G…
Dimensiunea aplicatiei este: 349.8 Mb
---